This is a guest post by Jen Smith. If you want to guest post on this blog, click here to get more information.
I have gotten a lot better at financial management in the last few years. Now I have to be honest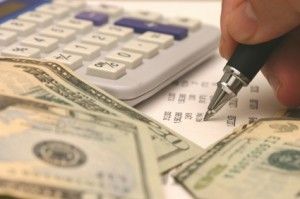 and attribute a lot of the credit for this to my husband 😀 . He is good at managing money in a very positive way and luckily our values and goals in life are very similar. However, obviously I am a willing learner and partner in this process for it to work. I haven't always been this way and I wanted to share what I have been learning about money and how the way I now manage my money has enabled me to work less.
I have worked full-time in my main job (37 hrs) until July 2009, when I started working 30 hrs. I got a new job in December 2009 and am now working 18.5 hours a week.
Now you may be happy working full-time. I am not suggesting everyone wants to cut their hours down. The reason I am cutting the hours of my main job is to have more of a work life balance and also to create more time to work on my passion: my Personal Development and Life Coaching business.
Get clear.
Where is your money going? The first step to having power with our money is to know 'what is so'. How much is coming in? How much is going out? At times, when I haven't been so good at managing my money, this has been the hardest question to answer. I didn't want to know, and in some ways, keeping things unclear helped me to keep my head in the sand. However, we all know that ignorance can be bliss, but when we are doing this, we are just ignoring reality! The sooner we deal with the reality of our situation, the sooner we regain our power in this area. I have also found that when I start taking responsibility, turning things around or reaching goals (whether that is getting out of debt, saving or whatever) it is usually a lot easier than I had thought!
What do you want?
The message I want to get across is that improving the way that we manage our money can free us up to have more of what we want. What we want is unique for each of us. You may want less time at work to start a business, like I am doing, have more time with your family, more time for hobbies or maybe just to relax and be at work less 😀 . On the other hand, you may want to stay on the same hours because you enjoy your job so much! That's great, but managing your money better can still give you more of something else of your choice … new outfits, better holidays, early retirement. It's about working smarter not harder and valuing our money and the time we give to earn it.
Question everything.
Do you use it? For example if you pay for Sky TV – how many channels do you actually watch? In the UK, we can buy a Freeview Box for less than £20 one off payment and get 30+ channels rather than the monthly instalments with Sky. How many times do you honestly go to the gym? Is it worth the money you are paying? Really look at your life and how you are living. Be ruthless. It's surprising how much money we can waste paying for things we don't need and don't actually use!
Do you really need it?
When you buy something – think do you really need it? Yes that car might be a nicer design. But, if keeping the car you have got or buying a cheaper one could save you thousands of pounds, how much time would that save you? How much more would you have to work to pay it off? My husband and I had gone through a phase of thinking about buying a bigger house (mainly for a larger garden), but realized that would probably cost us at least 30k extra. Adding it on to the mortgage sometimes takes the reality of how many hours working that would mean!
One thing I have noticed (and I am sure I have done myself when I worked full-time) is envy by full-time colleagues over their part-time colleague's hours. "I wish I could do your hours" often said whilst the same person spends lots of money on nights out, new clothes, holidays etc. I'm not having a dig (as I said I know I know have felt like this myself in the past) but it is about priorities. If you look at all the things you spend your money on in a month that are not essential, for example less new clothes, lattes on the way to work or meals out, it could equal fewer hours at work. It depends what you want more. If you still want your luxuries, just know you have chosen that.
Summary
What I want to get across here is that we always have a choice. We are in charge of our destinies and with a little financial management and discipline, our dreams are often a lot more achievable than we think they might be. Step by step we can move in the direction of our dreams. Shake things up, start being creative and thinking outside the box. Just because full-time is the 'normal' working hours, doesn't mean you have to do it too, if that's not what you want.
What do you think? What ways have you found to live more and work less?

This guest article was written by Jen Smith, who regularly writes on the topic of personal development. She is a Psychology graduate and is a Life Coach and Mentor. You can also follow Jen on Twitter.
If you want to guest post on this blog, click here to get more information.
Please subscribe to my blog using the RSS link or email updates and follow me on Twitter.
If you enjoyed this post please click on one of the icons below and share the love.