Have you ever thought that you might need someone you can turn to when you are faced with challenges in your life?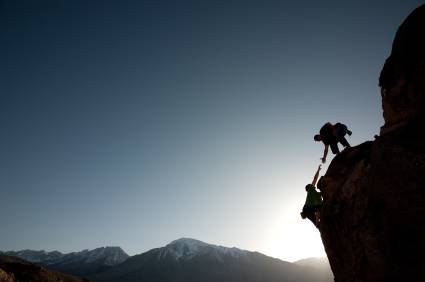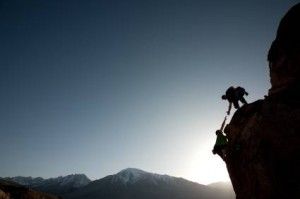 Or do you need someone to bounce ideas off of, or to talk to at a time when you just need to get something off your chest?
Or perhaps you need a sympathetic soul who can lend you a hand when you are trying to climb that mountain called "life"?
Well, there is a profession out there called "Life Coach" that you just may want to look into.  I must confess that my knowledge of this profession is limited, or at least it was, before I conducted this interview.  I do know that this occupation has grown significantly in the past few years.  More and more people are becoming life coaches and more and more people are turning to life coaches to achieve their goals.
[sc:medium_rectangle_adsense_left]
Through the far-reaching tentacles of the blogosphere, I have been able to meet and reach out to two wonderful women who are life coaches.  Nona Jordan currently has two websites including blogs at http://insighthealthcoaching.com and http://everydayyogini.com. 
Jen Smith has a website and a blog at http://reachourdreams.com.  These two women have graciously agreed to answer a number of questions I posed to them on being a life coach.
(My interest in this interview was to gain knowledge.  I have never personally met Nona or Jen and have only gotten to know them through commenting on their blogs and vice versa.)
The Interview
Could you give us some background on yourself?  Maybe where you live and what led you to become a life coach?
Nona:
My name is Nona Jordan, and I live in Rome, Italy.  My husband's career moves us every 2 – 3 years, so, when we met, I decided to pursue my long-time passion of Yoga and meditation and became a certified instructor through Kripalu.  Shortly after that, I had my daughter and everything was on hold.

During the transition to living in Italy, I became ill in large part due to stress.  I began to study how stress impacts the body and, how thoughts impact emotions, and how negative emotional energy gets "caught" in our bodies which results in physical pain and stress, which in turn, can lead to illness.  I then stumbled on the coach training of Martha Beck, Oprah's life coach, and signed up.  The tools she uses so perfectly compliment the mind-body techniques that I use to decrease stress, that it was really a perfect fit- it felt like I had come home to what I was always meant to do in the world!
Jen:
My name is Jen and I live in the UK, in the Kent countryside near the coast. My husband and I moved here from London a few years ago.  I have always been interested in personal development since I can remember and did a Psychology degree, a Counseling certificate and worked in lots of 'caring' professions. The point when I realized coaching was what I wanted to do was through working for an international coaching company a few years ago, where my job was to coach people every day (as well as receiving coaching myself).

This was an incredible experience and I realized the power of coaching to make a difference in people's lives. I particularly like the forward looking, action focus of coaching (i.e. not just talking!) I decided to get accredited (which I did at the beginning of this year) and have since started coaching clients on a one to one basis.
How would you define a life coach?  I'm not looking for a dictionary definition but more what you feel is the definition of a life coach.
Nona:
A life coach is a trusted professional that can provide you with objective feedback to help you change your life in positive ways.  The style of coaching I employ uses a great deal of focused inquiry and thought-work, to rid clients of negative thoughts and beliefs that keep us tied to old, painful, patterns of behavior. In addition, as a mind-body coach, I also teach clients specific, scientifically-proven tools that help decrease stress, reduce pain, and ultimately, lead to greater happiness and enjoyment of life.
Jen:
Someone who can help you achieve the things you want to achieve in life, whether it's how to deal with a certain situation i.e. being more confident, or help with achieving a specific goal. A life coach can help you gain clarity about who you are and where you want to go. A life coach doesn't tell you what to do, or give you advice, but through listening and using coaching techniques helps you to realize what you already knew. We all get stuck sometimes, whether its how to move forward or deciding on a certain path or maybe letting go of regrets but having a coach helps to untangle where you are stuck and get clear.
Do you need any special training to become a life coach?
Nona:
There is no one standard for life coaching at this time.  I have chosen to complete a rigorous training and certification program with Martha Beck, plus, I also go to a coach myself (I firmly believe you must live it to give it!!).
Jen:
At present you don't have to train to call yourself a life coach and I personally think there are probably a lot of great life coaches out there (who maybe never even call themselves that word) who do it naturally – just listening, helping and inspiring people they come into contact with. Saying that, as a profession obviously it is good to have some guidelines and there are moves towards accreditation and there a lot of great courses available to train to be a life coach.
What personality traits should a life coach possess?
Nona:
Compassion, honesty, a willingness to be wrong, the ability to lead, and an entrepreneurial spirit!
Jen:
An interest in people, helping others, positivity, patience and empathy. I think also being able to 'get' where people are, but also see what they really are capable of is a must.
I have thought recently that talking to a life coach may help me attain my goals.  How could I benefit by using a life coach?
Nona:
Coaching can help you gain clarity around your vector, dissolve any limiting beliefs that are holding you back, and create a structure of accountability so you get where you want to go.  Coaching is a great choice for goal achievement!
Jen:
Talking to a Life Coach can help you to attain your goals, as it is action orientated. Each session you will have work to do to move forward with whatever it is you are working on. Part of my job is cheering you on and helping you to remove blocks to what you want to achieve but also by being accountable to me for what you have agreed to do. I help you to make sure your goals are achieved.
If you could give some advice to another person who is thinking of becoming a life coach what would you tell them?
Nona:
Find a coach training program that you really, really resonate with.  Evaluate whether you are ready to be a business owner, because that takes a fair amount of time, and, make sure you are ready to tackle your own stuff, because to help others, it's important to be (and stay) emotionally clean yourself.
Jen:
Do your research, talk to people who have trained to be life coaches and find out if it's for you. I looked at lots of different options including becoming a psychologist, counselor and psychotherapist. In the end Life Coaching was the approach that has most fitted with my approach to life and felt right for me. Also look into the different types of courses and how they work, some include coaching practice (which I'd recommend particularly if you haven't coached before) and some are distance learning.
Is being a life coach your full-time occupation or is this a part-time career?
Nona:
I have a small child and my husband and I have obligations to his work – this is my career, however, I work part-time to accommodate the other parts of my life.
Jen:
Part time. I work 4 days a week in another role and am a Life Coach the rest of the time.
I met you through your website and your blog.  Did you start the blog to advertise your occupation or for some other reason?  Have you enjoyed blogging?  If so, what about blogging do you find enjoyable?  If not, what don't you like about blogging?
Nona:
I began blogging almost three years ago, on my Yoga blog, Everyday Yogini.  It felt very natural for me, when I began my coaching practice, to create another blog for that.  Not only to connect with clients and promote the business, but, I love to write, and, I love the personal connection with readers.  The best part is when someone comes to me and says, "That post that you wrote really changed my perspective.  Thank you!"  That is simply the best feeling.
Jen:
I needed a website for my coaching and through researching how to set a site up, stumbled across the blogging world, which I absolutely have fallen in love with! I enjoy writing and being creative and passing on some of my knowledge and hopefully making a difference in that way, as well as advertising my Life Coaching services. One thing I particularly enjoy about blogging is meeting amazing people online.
[sc:link_unit_right]
This interview has been very enlightening and educational for me. Hopefully it was the same for you.  I really want to thank both Nona and Jen for their candid responses to the questions.  If you have more questions about life coaching you can reach out to them at their websites.  You can also follow them, as I do, on Twitter.
If you have thought about turning to a life coach to help you through your life's challenges, hopefully you now have a little more insight into how a life coach can help you become your best!
Please subscribe to my blog using the RSS link or email updates,follow me on Twitter, or on Pinterest.
If you enjoyed this post please click on one of the icons below and share the love.