This is a guest post by J.D. Roberts. If you'd like to guest post on this blog, click here.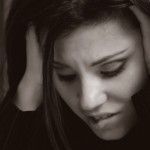 Cognitive Behavioral Therapy is a relatively new approach to dealing with multifarious psychological and psychiatric afflictions. In essence, it is a means of transforming one's thought processes to enhance their quality of life. It can be implemented for many disorders including depression, anxiety, eating disorders, among many others. CBT is used extensively today to help sufferers simply as therapy or in conjunction with a regimen of medication.
CBT can help with Panic Disorder Symptoms and Others
I personally used it to overcome a debilitating panic disorder that kept me from functioning and fully enjoying life, so this information comes from painstaking experience. But CBT cannot be assumed as an easy fix as a panic disorder treatment or for treating any other debilitating conditions. For it to work, the patient must be willing to explore and examine their own mind and keep records or a journal of their journey. It is hard work, but when approached with an open mind, it can radically restore your self-esteem and help you thrive. If medication is a short cut, CBT is the scenic route. You'll learn more about yourself in this process than you'd expect, which can be a liberating and satisfyingly existential experience.
Must Take Responsibility for your Condition
One of the first things someone going through CBT counseling needs to grasp is that their perception of the world is in fact, uniquely their own. They must let go of misconceptions of being a victim and take responsibility for where they are in their life. One must understand that it is not a situation in itself that is causing anxiety and fear, but rather the subsequential inner thoughts that manifest from the situation that affect one's perception. The "automatic negative thought" reaction is what CBT attempts to change.
In my case, I would experience chest pains with a rapidly beating heart and my automatic thought was "I'm having a heart attack and I'm going to die," which caused a chemical chain reaction by releasing the adrenaline hormones, spreading panic through my body and thus making it harder to calm myself down. The entire thought-to-physical reaction would become a never-ending downward spiral which could only be quelled by anti-anxiety medication… that is, until I worked actively to change those thoughts. Realizing that thoughts in themselves are not going to cause you harm is the first step to allowing CBT to work for you.
Psychiatrists can help using CBT Techniques
When practicing CBT therapy and techniques with a psychiatrist or counselor, a patient will most likely be given cognitive behavioral therapy worksheets to fill out each time they have a negative thought. You're expected to write down each emotion that transpires and continually ask the toughest question of all — "then what happened?" For anxiety, that question leaves you stumped because you quickly run of out answers and find yourself saying "nothing," after which your counselor will smile and agree. After you do this many times, you'll slowly start to realize that your initial reaction was overblown and that since you're ok, there's no real reason to get scared and panic in the first place.
A Positive Attitude is the Key to Success
Most patients start to feel a difference after at least six weeks of CBT, though some can take much longer. Success in cognitive behavioral therapy is directly attributed to a positive attitude.  If you're going to be utilizing its principles to get off of medication and take control of your life, just know that it's going to take time and perseverance but is completely worth your time and effort.

This guest article was written by J.D. Roberts who is a seasoned writer in personal finance, specializing in credit repair. You can find more of his articles located at CreditRepair.org
Please subscribe to my blog using the RSS link or email updates,follow me on Twitter, or on Pinterest.
If you enjoyed this post please click on one of the icons below and share the love.