This is a guest post by Liam Ohm. If you'd like to guest post on this blog, click here.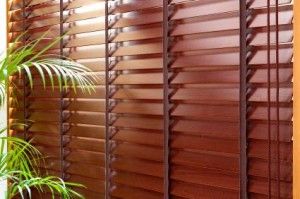 Choosing blinds for your home means weighing up how individual styles fit into the overall look of your property. At the same time, it's important to consider how to choose blinds for individual rooms of a house, and where you might need to invest in specialist blinds for more unusual windows and spaces.
Thinking about general decor choices, and how blinds can fit into them, is also crucial to picking the best and most suitable blinds for your home. How to choose the right blinds for your home, therefore, becomes about knowing your space and taking advantage of the many different options for blinds available to you.
Style of Home
Modern apartments and homes often benefit from the use of modern, lightweight blinds that can be discreetly integrated into the overall design of the property. PVC and metallic vertical and horizontal blinds work well, in this respect, for kitchens and bathrooms. By contrast, more traditional wooden Venetian, and fabric Roman blinds, tend to work better with older and countryside properties. Roller blinds also represent a useful way to combine a range of different styles, as they provide multiple options for decoration. Taking advantage of specialist ranges can also help to give you different blinds styles for different rooms of a house.
Individual Rooms
It's important to think about whether you want the same style of blinds for every window in your home, or whether you want to mix and match, depending on different spaces. For example, kitchen and bathroom blinds tend to be more practical when they are made from PVC or other, easily washable materials. Having blinds made from hard to wash fabric can mean picking up a lot of mildew.
By comparison, living rooms and bedrooms can be decorated with wooden Venetian and pleated Roman blinds that have more of a decorative effect, and are less likely to be become damp than in a bathroom or kitchen. When thinking about children's bedrooms and your own, roller blinds that can be discreetly rolled away, can be a more economical choice.
Specialist Blinds
It's often worth investing in specialist blinds if you have unusually shaped windows, or if you want to create a particular effect within your home. Larger conservatory and skylight blinds can be bought by matching up window measurements to specialist blinds, which can be installed into the space. Venetian blinds can similarly be used to cover up large French windows, and can be carefully adjusted to maximize the amount of light you use. Moreover, specialist blackout blinds can work well for children's bedrooms, as they completely shut out light. This is a useful option during the summer if young children are being put to bed when there is still light outside.
General Decor Tips
Think about how styles of blinds will tie into your wallpaper, furniture, and general decor choices. PVC and metallic blinds work well as part of a minimalist style for kitchens and bathrooms. Country house and rustic styles are better suited by Roman and Venetian blinds, while roller blinds can be painted and decorated with decals to suit the look of wallpaper and carpeting. Taking these decor ideas into consideration will make it easier when choosing blinds for your home.
This guest article was written by Liam Ohm who is a regular blogger on home improvement websites. With expertise in this area he feels that Web Blinds roller range are the best available on the market. In his spare time his passions are running, travelling, and swimming.
Please subscribe to my blog using the RSS link or email updates,follow me on Twitter, or on Pinterest.
If you enjoyed this post please click on one of the icons below and share the love.