This is a guest post by Donna Reish. If you want to guest post on this blog, click here to get more information.
There are plenty of people who are ready to challenge me on this point already. I know, I know money is everything. Entering the real world with a degree in French Literature or Medieval History, even if it's from your first choice college, isn't going to get you a six figure job offer right off the bat (in all likelihood).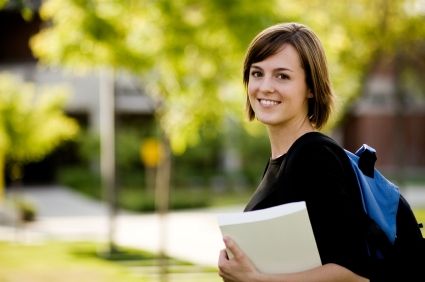 Sure, I get this. With a degree in English Literature and Rhetoric, maybe I come from a skewed perspective. However, I think this is a point worth considering.
Find your Passion
College should be about discovering what it is you are passionate about. You should use college as an opportunity to explore all different curricula. Take science classes, take math classes, study the feudal systems of Early Modern Europe, and explore the creatures that live in the depths of the oceans. Don't limit yourself based on a desired projection for future earnings. Doing something you are passionate about will lead you to a successful career.
Don't make earning power your #1 motivation
I completely understand choosing a college major at your first choice college based on its potential for earning money in the professional world. College is a time when you start to think about the future in terms of dollar signs and bank loans. You can no longer rely on the false financial freedom your parents once provided you. I am not writing this to convince you that an English major studying to become a fourth grade teacher is going to make more money than a biology major studying to become a doctor. More so, I'm here to say that you will likely earn more money pursuing a career that you enjoy. All too often, young students enter science and business classes because they think that doctors and CEOs make more money. While this is undoubtedly true in some cases, rich doctors and businessmen are successful because they are passionate about their work. Spending four years in college pursuing a degree that you don't find interesting is only going to hold you back.
The money will follow the passion
People often fail to realize that disliking their job can hinder the amount of money they make. This equation works in much the same way when discussing college majors. If you like what you are studying, you are more inclined to perform at a higher level. Let's look at this in two different (but similar) scenarios. In college, if you are working towards a degree you do not find interesting, you will likely not be inspired to try your hardest or perform your very best. This means that your grades may suffer because you are simply not interested in what you are doing. If you're grades suffer, then so too does your potential for landing the dream job (and salary) you are striving for. In the professional realm, if you dislike the job you are performing each day, you are less likely to perform to the best of your ability. This means that you are less likely to be promoted and less likely to earn the amount of money you should or could.
The key to success in any sector of life is passion. You have to be passionate about your goals in order to truly excel at them. Unfortunately, being passionate about money alone is not enough. You have to enjoy what you are doing in order to do it well. Use college as an opportunity to discover what it is that truly inspires you. Once you find something that you truly care about, you will find a way to build it into the wealthy career you desire.
Donna Reish, a freelancer who blogs about best universities, contributed this guest post. She loves to write education, career, frugal living, finance, health, and parenting related articles.
Please subscribe to my blog using the RSS link or email updates and follow me on Twitter.
If you enjoyed this post please click on one of the icons below and share the love.