If someone were to ask you to define goals in your own life you might say: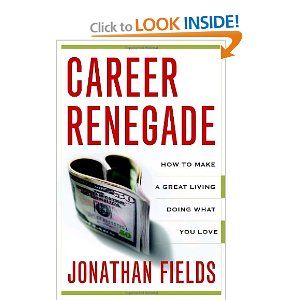 Make a great living.
Love what I did.
Be around people I loved.
Well, these were the exact goals that Jonathan Fields, author of Career Renegade, had when he left his job as a securities/hedge fund lawyer roughly a dozen years ago.  Since then Jonathan has been able to realize those goals and live life to the fullest as a husband, father, teacher, speaker, and entrepreneur.
Jonathan launched a boutique creative marketing and entrepreneurship catalyst group called Vibe Creative and in January of 2008 launched a company called "Career Renegade" to help train others to be able to live and work as he does.  He also runs two websites, JonathanFields.com and CareerRenegade.com.  Jonathan had previously run blogs at both sites but he has decided to merge the two blogs on Tuesday, October 13th, into one blog at JonathanFields.com.  And, according to a recent blog post, he has also relaunched TribalAuthor.com as what he calls a "full-on blog" and has begun contributing a weekly column to the new Huffington Post book section.  So, as you can quickly note, he certainly appears to be living the life that he set out to live based on his original goals listed above.
Inspiring and Practical

Have you ever read a book that was jam-packed with so much information and resources that once you finished it you had to read it again?  This was exactly the case when I read Career Renegade.  This isn't just a feel-good book, although I did feel great after reading it.  What is more important is that not only does it inspire, but it also gives you actionable steps that you can take to achieve the goals of making a great living doing what you love to do.  At the same time, Jonathan gives us real-life examples of people like Ann Rea who was able to parlay her artistic talents into partnering with wineries to paint scenes of their vineyards.  And there's the story of Victoria Colligan who was able to launch a national organization called "Ladies Who Launch" that brings female entrepreneurs together for education and support.
Challenge Yourself
The impression that this book initially had on me was that I cannot continue to make excuses for not living the life I want to live.  I should challenge myself to explore the opportunities and resources that are available.  And there are resources out there, and a lot of them are free, and they are listed in this book.  Jonathan challenges his readers to find their passion by asking the question "What makes you come alive?"  He beckons the reader to explore their passion and tap into that energy.  You just might find that you can make a living doing what you love to do.
Explore Gaps
Jonathan talks a lot about gaps in this book.  You may be able to fill a gap when it comes to information by creating an e-book or a podcast that you can sell on sites such as ClickBank.com.  He talks about resources such as LuLu.com which will help you create and sell a professional-looking printed book or an e-book.  Gaps in education are also explored in this book and how easy it is to create course material that will allow you to sell and teach your courses online.  He even supplies you with a number of sites like elance.com and scriptlance.com where you can even hire someone to write your training material content.  Being able to make money by exploring the need for stuff is also presented in Career Renegade.  Along this vein, the story of Susan Nichols is discussed.  Susan was able to parlay her passion for yoga into the development of a skidless yoga mat for a physical style of yoga called Ashtanga.  She saw a gap and a need out there related to her passion and was able to exploit that into a lucrative enterprise.
Blogging and Social Media
Setting up a blog and utilizing social media such as Twitter, Facebook, LinkedIn, MySpace, etc to promote a blog is discussed in detail in this book.  Mentioned previously, Jonathan has been writing blogs at more than one location and is being merged into one blog at JonathanFields.com.  I've found this blog to be extremely entertaining and insightful.  Jonathan talks about how you can promote your blog by guest-posting on other, more popular blogs and how you can approach these blog owners to get your post published.  Blogging can not only promote your business but it can be a business in itself.
Possibilities
If there was one feeling I was left with after reading this book is that there are real possibilities out there if we only reach for them and utilize the tools Jonathan has detailed so thoroughly.  I have only scratched the surface when it comes to the abundant resources that are found in this book.  We can all sit there and wish we had the life that Jonathan does but, after reading this book, I feel that the possibilities are endless.  It is possible to turn your passion into your livelihood.  It may not happen overnight but if you don't try you will never know.  If you do try, who knows, maybe you too can live the life of a Career Renegade.
Please subscribe to my blog using the RSS link or email updates and follow me on Twitter.
If you enjoyed this post please click on one of the icons below and share the love.