This is a guest post by Cathy Smith. If you'd like to guest post on this blog, click here.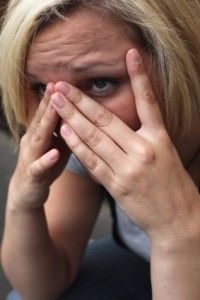 It's quite possible that you have never been around someone who is having a panic attack. Yet, if you have, you are familiar with the feeling of confusion and instant alertness that comes with wondering how you can help. No matter what brought on the panic attack, there are things that you can do to help the person to recover.
If you have had a panic attack, then you know exactly how one feels, and the following description should sound very familiar to you. However, if you haven't had one, it's important to understand panic attack symptoms, what it feels like, and what is going through the mind of the person having the attack.
So what is a panic attack? A panic attack is an abrupt, acute onset of anxiety. It can strike at any moment, in any situation. When one hits, your world is narrowed, and you have tunnel vision for only your immediate surroundings. You don't really hear others around you and don't see what may be right in front of your eyes to help you.
Panic attacks come with racing thoughts and the loss of ability to think logically. You feel helpless, like the world is closing in on you. All you can think of is the worst-case scenario – you will be killed or attacked, you will be trapped, or others around you will die. It is illogical and unhelpful.
Your heart rate increases and you start to breathe very shallowly, gasping for breath, but not really getting any air. For myself and the women I know who have experienced them, intense crying ensues and vision then blurs.
It is the fight or flight response kicking into overdrive, but getting twisted on itself. You want to fight and run, and find you can't do either.
First
There are steps you should take immediately for someone having a panic attack. The first is to pull them aside or get them out of the situation in any way possible. That may mean just stepping out of the flow of foot traffic. It may mean pulling them into a side room or into the car from the parking lot. This helps them to feel safe, both because they are getting away from whatever is causing the panic, and because you are there to protect them.
Second
As you are removing them from the stressful environment, tell them to just breathe. It may be a cliche that deep breathing helps with anxiety, but it has become a cliche because there is truth to it. It becomes even more important when you are having a panic attack. While it is unlikely that your body would allow you to stop breathing completely and you would pass out, it feels like you will. As I mentioned before, you feel like you can't get enough air and your throat is closing up. It's very important to breathe, not only because it does calm you down, but because you need the air. However, in the throes of a panic attack, you can't think of all those things. If you hear someone tell you to breathe, even if your vision is narrowed and you can't really comprehend everything that is going on around you, you will hear that instruction. And something will click and you will start to breathe.
Third
After the immediate threat has passed, the person having the attack is protected to a certain extent, and has started to breathe, it's time to help stop the racing thoughts and assure them that whatever they are picturing isn't going to happen.
Most likely, you will be able to tell what the triggering event was that brought on the attack. For instance, the squeal of tires and gunning of the engine brought on an attack because the person was remembering getting hit by a car as a teenager. Even if you don't know about the memory, you know that something about the squealing tires and gunning engine upset the person.
Assure them that they aren't in any danger. Let them know that no one else is either. If that's not strictly true, say there has been an accident and someone is injured, then assure them that help is on the way. Let them know that everything is ok, and continue to remind them to breathe.
Panic attacks usually subside after several minutes. They don't leave quite as quickly as they came, but breathing and realizing that you are not in any danger goes a long way toward helping to overcome them.
After the panic attack, the person will most likely want to leave the situation completely. This may even mean they want to cancel plans for the rest of the day. Understand that this isn't a personal affront, rather that they are emotionally wrung out from the attack and want to retreat to a place they feel safe. They are also quite likely to feel embarrassed and may want some distance from you until they feel completely themselves again.
Being with someone who has a panic attack can be scary for you too. You may not be sure what set it off, or how to stop it. If you aren't familiar with helping them previously, the best thing you can do is remain calm and collected. The one suffering the attack will see you as a safe person, and will believe you when you tell them everything is OK. Soon, the attack will pass and so will the anxiety for both of you.
Cathy Smith has been familiar with mental illness for several years and has learned tips and tricks to help those suffering. She writes about depression and other self improvement topics at Ripples of Improvement.
Please subscribe to my blog using the RSS link or email updates,follow me on Twitter, or on Pinterest.
If you enjoyed this post please click on one of the icons below and share the love.