This is a guest post by Dawn Papandrea. If you want to guest post on this blog, click here to get more information.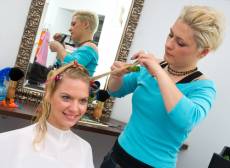 Going to beauty school always came with a certain stigma, namely that it was a fall back for those who couldn't make it at "real" college. And remember the song "Beauty School Dropout"? Today, however, cosmetologists, stylists, and beauty artists are getting some respect. Perhaps it's thanks in part to celebrities who give their stylists props in public, or the reality shows that portray the smart business savvy of those in the beauty industry. Most of all, it's the evolution of the beauty schools themselves, which now offer a top-notch education that goes way beyond hair style how-tos.
Here are some lesser known facts about today's top beauty schools…
They're high-tech.
Smartboards and laptops, interactive DVDs, state-of-the-art equipment and software, hands-on laboratories…. although these sound like the tools you'd expect to find in college classrooms, today's top cosmetology schools tout them as well. In addition, you'll often find real working salons and/or simulated business experiences so students can apply their knowledge in a real-world setting.
Students come from all walks of life.
You might have an image of a young woman going into beauty school because she didn't know what else to do with her life. That's yesterday's perception. Today's cosmetology students come from a variety of backgrounds, with the majority of them having had some post-secondary education experience. In addition, many students enter beauty school to purse their "second careers," after finding their original industry of choice wasn't the right fit for them. Plus, here's a newsflash – with such a growth in male salon services, it's not a surprise to learn that men go to beauty school, too!
It's serious business.
Beauty school consists of lots of practical courses in things like cutting and coloring hair, but there's so much more to learn in order to be successful in the field. Today's top beauty schools drill in lots of business basics, too, such as inventory control and customer management, as well as honing communication, marketing, and entrepreneurial skills needed to grow a business. And, get this – in order to work for a quality salon, you must earn your state license in whatever your specialty is, and that often requires hundreds of classroom hours and passing exams. It's not as simple as you might have thought.
The learning never stops.
Depending on the state in which you are licensed, you may have to obtain CEUs (Continuing Education Units). The amount of hours required or the particular classes you need to attend will vary depending on your licensing state, however, consider you will need some retraining to keep your license up to date, and to continue practicing in your beauty career.
Dawn Papandrea is the managing editor of
SpaBeautySchools
, part of The CollegeBound Network. She's also writes for other publications covering beauty, women's lifestyle, education, parenting, and personal finance.
Please subscribe to my blog using the RSS link or email updates and follow me on Twitter.
If you enjoyed this post please click on one of the icons below and share the love.