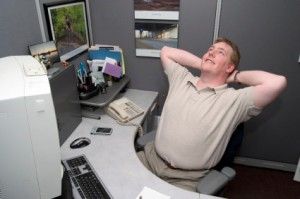 In my latest post on WorkAwesome, I wrote an article entitled 5 Signs That You May be in Your Last Job. If you are fortunate enough to have kept your job over the past year, I'm sure you are very grateful. These days, for a lot of unfortunate people, they have yet to get back into the job market. Even though the economy is looking up, according to Money magazine,
"Even if 472,000 new jobs were added each month – triple the current forecast-it would still take until October 2013 for unemployment to fall to pre-recession levels."
Given the fact that the job market is still not rosy, there may be a lot of you out there who are content where you are and don't plan on moving on anytime soon. Maybe you feel that you are in your last job and will stay there until retirement. Obviously this is not a given, but it's hard not to try to make the best of your situation since you are employed. So please check out the WorkAwesome article and maybe you, too, can see the signs that you may be in your last job. And feel free to leave a comment either here or on WorkAwesome.
Please subscribe to my blog using the RSS link or email updates,follow me on Twitter, or on Pinterest.
If you enjoyed this post please click on one of the icons below and share the love.