This is a guest post by Becky Flanagan. If you'd like to guest post on this blog, click here.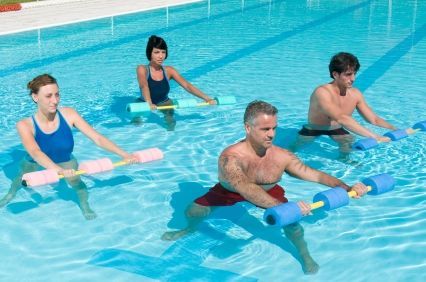 I decided recently that I wanted more things in my life that were fun, including exercise. After sweating and toiling as a runner, cross training with weight workouts, I went looking for a workout that didn't involve a lot of grimacing and being so serious. That's when I found aqua aerobics.
I never really looked forward to my workouts in the past but with aqua aerobics, I can't wait to get into that pool! And here's why…
Let's have some fun.
What do I like about aqua aerobics? The first thing I noticed when I went to a class at my local pool was that everyone in the class was laughing and joking and having fun. The exercises looked pretty difficult at times – balancing one foot on a foam noodle while trying to stay upright looked like a bit of a challenge. But that didn't matter – the class had fun with it, laughing when they would fall off balance.
A great workout.
I was a little skeptical when it came to the quality of the workout I would get from aqua aerobics. A good workout for me always involved having to towel off sweat as I worked. During my first aqua class, I found out how much you can sweat in the water. The teacher emphasized the need to hydrate – we were losing a lot of fluids, and needed to replenish. I hadn't brought a water bottle with me, and soon felt my mouth go dry, and during the first break, had to get out of the water to head for the water fountain.
Where's all the equipment?
Yes, it was a snobbish thing, but I was used to walking into a gym with a lot of stations, heavy equipment, and ways to contort my body to get a burn. If it wasn't weights, it was treadmills and elliptical trainers, which I got really old in the middle of the winter when it was too cold outside.
With aqua aerobics, all I saw in use was a small heavy ball, and a thing called a foam noodle. I couldn't figure out the use for that at first, but when it came time to build the core, the foam noodle gave a really great ab burn. I didn't have one for class, but found one at the website called InTheSwim, so I was prepared for the next workout.
Variety is great.
In my running, the main variable was where would I run, and how far. With weights, I could either start with bicep curls, or for a bit of spice, start with the shoulder station. All that changed once I ventured out from the basic aqua aerobics class, said "here I go" and tried a Zumba class. It was fast paced, sexy as I had heard it would be, and boy, was I breathing hard by the first break. My gym has aqua classes for tai chi, yoga, weight workouts, and kick boxing, and it's fun to have those choices.
Some great cardio options.
My love still is running, and one of the guys in our running group told me to check out aqua jogging. He hurt his knee on one run, and was out for about 3 months. When he came back to run with us again, I figured he'd be slow and not last long. He took off like he'd never stopped running.
When I asked, he said he had been aqua jogging 6 times a week, and it was a great cardio workout, while resting his injured knee. I will try an aqua jogging class soon. I like the enjoyment groups get from aqua aerobics, and I'm learning that it's a much better workout than I ever would have imagined. I haven't felt like I was falling into a familiar routine yet, and I still have many different types of workouts to try.
This guest article was written by Becky Flanigan who is an avid gardener and even helps friends landscape and decorate their yards. She was an English major in college, and now enjoys writing freelance articles. Becky has a great time on family weekend trips with her husband, 3 kids, and 2 golden retrievers. She spends many happy hours at the family swimming pool, watching the kids and dogs splash around.
Please subscribe to my blog using the RSS link or email updates,follow me on Twitter, or on Pinterest.
If you enjoyed this post please click on one of the icons below and share the love.