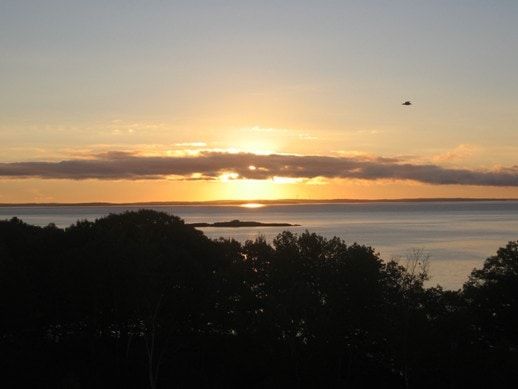 Having recently returned from a 3 day anniversary break with my lovely wife of 24 years, my mind wanders with thoughts of having the freedom to enjoy life as I please. I woke up on one of those mornings during that brief respite to this site from our hotel room of the sun coming up over Penobscot Bay in Maine. This may just be the BEST picture I ever took in my life. I even got a seagull flying in the shot. I'm not a photographer, or anything close to one, but it's hard arguing the fact that this is very close to vista nirvana.
You see, when I do eventually retire, my wife and I want to have a view of either the water or the mountains from our home. The view seen here would be the ultimate. To be honest, I really don't want to wait any longer. Heck, I'm 52 years old and I want my freedom NOW!
I want to wake up each morning to a glorious view and sit on the deck and have coffee with my wife overlooking that wondrous vista.
I want to plan our day spontaneously while we are drinking our coffee knowing that there are no deadlines to make or meetings to attend.
Plan the evening meal together and maybe head out to a local Farmer's Market during the day for fresh produce for that meal.
After coffee I might head into my office or bring the laptop onto the deck to check my email, write a new blog post, and check my online store for any new orders.
I may head out to my workshop and start on a new project. Maybe build something for one of the kids for Christmas.
We could sit and watch a movie in the middle of the day and maybe make up for all of the movies we missed because we never felt comfortable leaving our children in the company of a teenage girl.
We could take a drive along the coast and stop at a clam shack for one of my wife's favorite foods, whole fried clams.
Visit one of the local wineries that have sprung up in the Northeast in the past few years and partake of some locally produced vino.
Sit at the computer together and design a new website and blog related to a mutual passion and build it in tandem.
Read!… Ah, read a book in the middle of the day rather than reading a page or two, too exhausted to continue, right before I go to sleep each night.
As I read my "during the day" book with the fireplace blazing, the sweet smell of garlic wafts through the air as my wife, a master in the kitchen, prepares a special dinner.
Shake up a couple of martinis, pour, and cheers glasses with my wife as I try to lend a hand in the kitchen.
And wake up each morning with those same freedoms to do what we please. Living life as we see fit.
You see, I've been working since I got out of college roughly 30 years ago and I want my freedom! Is this really too much to ask for? But I say all of this with hesitation because I know that there are people struggling out there. They are out of work while their savings are slipping away and they're counting on soup kitchens to feed their families.
I know that my rant sounds awfully selfish and it is! I recognize that. I have a great job and a loving family, and I know that in time I'll have everything that I want. But the question remains, will I have my health? Who knows?
So I guess for now I have to keep my nose to the grindstone and keep pushing on. I have a daughter in college and another one that will be there in three years. So I'll get back to work, keep my nose clean, and tend to my parental financial responsibilities.
But, wouldn't it be nice to live that life? I hope I find out someday. And I hope it's soon.
Please subscribe to my blog using the RSS link or email updates and follow me on Twitter.
If you enjoyed this post please click on one of the icons below and share the love.