Doesn't this place look inviting? Are these pictures from an ocean-edge resort, Newport castle, or oceanfront wedding reception center? Nope on all three counts. It's a college. Yes, a college!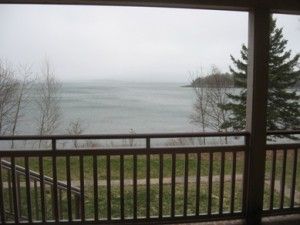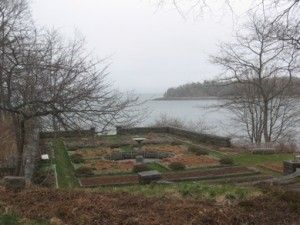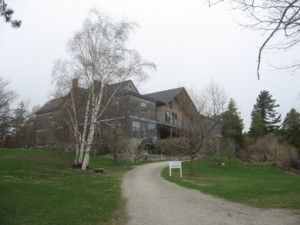 It's called the College of the Atlantic and if you are looking for a unique experience for your four years at college you may want to take the college tour and who knows, it may become your first choice college.
We arrived a little early on a cloudy afternoon in late April and decided to drive around the campus just to get the lay of the land before our tour. From viewing the college website we had a good idea of what the college looked like but until you get there you don't really have a feel for the place. The College of the Atlantic is situated on Mount Desert Island in Maine just outside of the town of Bar Harbor. The college is so close that students can easily walk there by road or by a sandbar during low tide. How cool is that?
At just before 2:00 we arrived at the Admissions building only to be met by our private tour guide, Renee, who presented each of us with an packet of material about the college. There was also a personalized note to my daughter in the packet on college stationery welcoming her to the college. What a refreshing change from the mass of prospective students stuffed into a small room for an information session that you find at the popular colleges. We sat for a bit in the Admissions building getting to know each other before we were off on our tour.
Even though the weather was overcast, the surroundings were spectacular. We were brought into a number of the buildings where we witnessed small classes in session. The student to instructor ratio is 11:1 which tells you right off the bat that the relationships between student and instructor tend to be close-knit and personal. Our tour guide stated that everyone knows everyone which is due to the fact that the current student body amounts to only 350 students.
The college advertises only one major called Human Ecology but, at the same time, students can design their own major based on the diverse course offering. A course list is shown on their website and some of the courses offered are Marine Biology, Agroecology, Documentary Video Studio, Agriculture and Biotechnology, etc. We were taken through a working greenhouse and anyone who is interested in botany could take classes that were associated with how to start a garden and run a greenhouse. If you are interested in pottery there is a ceramics and pottery studio on campus. If you are interested in zoology or even taxidermy there is a lab which will allow you to learn this art on animals that have died of natural or accidental causes. There is also a lab with live reptiles.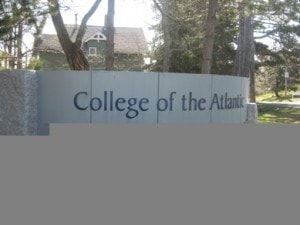 One rather novel aspect of the college is that there is a large outside pellet stove which heats the newer dorms which boast radiant floor heating for those cold winter Maine days and nights. During the winter there is a social event called Fireside Fridays where students meet on Friday nights in a beautiful student center with a fireplace and cafe overlooking the Atlantic Ocean. The school owns two boats, one of which is called the Indigo which allows students to learn about piloting a boat on the Atlantic. The college is right around the corner from Bar Harbor and Acadia National Park which is a spectacular venue for hikers, bikers, and sightseers.
As you can imagine, this college is not for everyone and should be experienced before a prospective student can fully appreciate what it has to offer. Before you decide that the College of the Atlantic is not for you, take a college tour. It may be too different for you but, then again, it may end up being your first choice college. The admission process was described to us as self-selecting by an Admissions Counselor who admitted that prospective students are unique and make a choice by deciding to attend the college. You just might find that this type of college education and environment may be one in which you will grow and flourish in your first four years away from home.
Please subscribe to my blog using the RSS link or email updates,follow me on Twitter, or on Pinterest.
If you enjoyed this post please click on one of the icons below and share the love.