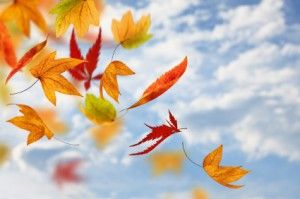 There is something about the spring and the fall that triggers a cleansing gene.  If you live in a harsh climate, the spring is relegated to cleanup from the winter.  The coolness of the fall invigorates the body and mind to work on projects before the winter bears down.
Removing clutter, organizing, and upgrading is the pattern of how this cleansing process unfolds.
[sc:link_unit_right]
DeClutter
Whether it is in your space at work, or in your home, there are areas that you occupy that have clutter.  Dictionary.com defines the noun clutter as a "disorderly heap or assemblage; litter".  However it's defined, you know it when you see it.  Removing clutter at work and home can be very gratifying.
Remove virtual clutter from your computer desktop
I like to have a simple background on my screen and if it is cluttered with unused icons I definitely think it can have a negative effect on my work.
Regularly clean your actual desktop
Clutter runs rampant on many an actual desktop in the workplace.  By maintaining a clean work surface, the ability to focus on your "big rocks" list becomes that much easier.
Closet Maintenance
Take a morning or an afternoon and make a decision to either keep that shirt or bag it and give it to Goodwill.  You may even have enough for a decent charitable donation to deduct on your taxes this year.
Tend to the kitchen cabinets, drawers, and countertops
If there is one place in your home that will accumulate more unused product than any other it's your kitchen cabinets.  Clearing them out and cleaning up may also give you a chance to potentially eat, and not waste, those groceries that you bought some time ago but are still within their expiration date. You can also pick up some kitchen cabinet organizers which will help you organize the contents of your cabinets. And if your kitchen drawers are also full of clutter then dumping them out and adding some kitchen drawer organizers will help you find whatever you need whenever you need it. Clearing off your kitchen countertops will also go a long way toward a more organized kitchen and will also give you more room each morning to brew your pour over coffee. Picking up some simple storage solutions such as kitchen canister sets and a kitchen utensil holder will help you easily access those often-used dry ingredients and kitchen utensils.
Organize
Merriam-Webster online defines the word organize as "to form into a coherent unity or functioning whole".  After you declutter the next step is to organize.  Being an avid woodworker I like to organize my shop so that I will always know where my tools will be the next time I need them.
Paper can still be your organizing choice
With the advent of "everything electronic", the use of a simple day timer is still the choice of many to stay organized.  Every time I work on or complete a task, I write it on the printed calendar to track my hours.  At the end of each day my hourly project work is transferred from the printed paper into a project tracking software.
[sc:medium_rectangle_adsense_left]
Hanging files
There are so many products today for organizing the workplace but one, in particular, is hanging files.  There are also versions of the hanging files that will sit on the desktop but, the way I look at it, why not use the real estate of the walls of your cubicle or office instead of adding more clutter to your desktop.
Your walls can be your friend
If you have a basement room that you cannot walk in, simply put up shelves on a couple of walls by buying adjustable shelf brackets from your local big box store.  You can use some old planks that you have lying around the house for the shelves or have them cut to size at the same big box store.  Organize everything that was on the floor onto the shelves and you have room to walk and a room that you can actually use now.
Use the space behind the door
One of the most unique uses of space I have seen used in my own home is a behind the door storage unit.  It basically converted a hall closet into a pantry.  Try it!  You will be amazed at the added storage you now have at very little cost.
Upgrade
Making small improvements in both your workplace and your home in the form of upgrades can certainly be beneficial to your life.
Purchase a headset
One of the most liberating purchases at work that I have made in the past year is adding a headset to my phone.  The headset has given me the ability to have my hands available to conduct a training session or to give a presentation over the internet.  They are not expensive and your company should have no problem springing for it.
Comfortable seating
According to Dictionary.com the term ergonomics is "the applied science of equipment design, as for the workplace, intended to maximize productivity by reducing operator fatigue and discomfort".  In recent years companies have placed particular emphasis on ergonomics in the workplace.  An upgrade to your work chair such as a reclining office chair could alleviate or eliminate any back-related injuries and, chances are, your company will pay to keep you healthy.
[sc:medium_rectangle_adsense_left]
Paint a room
One of the cheapest upgrades you can make in your home or apartment is to paint a room. You can completely transform the look and feel of a room with a gallon or two of paint for about $50 total.  Apart from the esthetic change in the room, you will feel great knowing that you did this yourself and for a small amount of money and some sweat equity.
Purchase a slow cooker
Another great purchase that we made in our home within the past year is a slow cooker.  In this day and age where time is precious and limited, a slow cooker is a great time saver.  It allows you to create a meal ahead of time and it will cook throughout the day whether you are home or not.  The meals that you can cook with a slow cooker are unlimited.  We tend to have chili, stews, and pulled pork with our slow cooker.  There are a myriad of cookbooks specifically written for slow cookers.  You not only can let it cook unattended but it also fills your house with an aroma that makes it so nice to come home to.
No matter what the season, cleaning up, removing clutter, organizing, and upgrading can be your steps toward cleansing your space as well as your mind.
Please subscribe to my blog using the RSS link or email updates,follow me on Twitter, or on Pinterest.
If you enjoyed this post please click on one of the icons below and share the love.