This is a guest post by Joyce Schreiner. If you'd like to guest post on this blog, click here.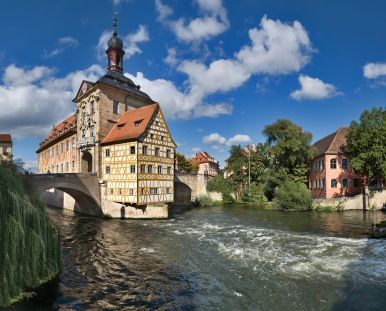 Germany is at the heart of Europe with rich and diverse culture. It's a place where the old and new meet and it is no doubt it's an attractive travel destination for young people studying from abroad.
Even though you are busy with studies, find time to visit places outside your host university whether you are studying in Germany or any other European country. You will learn so much more about Germany as a country, the culture and its people. Besides it is a great way to make new friends and brush up on your German.
Planning
Even though this sounds obvious many people just go to a new city without a plan. It's great to be spontaneous, but not advisable before traveling, as you won't make the most of your visit. Plan the what, where, and how.
Save
You can find cheap deals to travel around Germany, with discount cards for trains called Bahncard that often include single tickets for long journeys. The card costs only 25 euros and is valid for 4 months.
Sparprais are one-way train tickets for 19 Euros for traveling up to 250km. Schönes-Wochenende-Ticket(translated as "lovely weekend ticket") is only 49 Euro for 5 people if you want to travel with friends.
Ride-sharing is popular and safe option and you can try hitchhiking if you feel adventurous.
[sc:medium_rectangle_adsense_left]
Travel Light
During your classes and assignments your best bet is to travel for the weekend. It's a short stay and I would advise not to pack too much. Basics will suffice for a weekend trip but don't forget to take appropriate clothes as even in summer weather is colder in mountain areas.
After you enjoy the mobility and freedom of light travel you won't go back to packing too much.
Take Your Camera
Memories – who wouldn't want to permanently record them? With a smartphone or digital camera take pictures and videos. If you don't have a phone, paper and pen will suffice to capture special moments so you can share them with your family and friends on social media or privately.
Speak German
Wherever you go people will be fonder of you if you speak the native language and, at the same time, you can improve your basic knowledge of German. No matter what level you are, you will learn more by speaking the language with the locals at every chance you get.
Mix It
Germany offers virtually anything imaginable to do. So if you go to a new city or state try to visit few different places, such as a museum, sport game, bars, or catch a gig. You can go shopping, to a musical, or head out to the opera. See a football game or in the winter go skiing in the Alps.
Stay Healthy
[sc:link_unit_right]
Take precautions on long distance trips not to get dehydrated. Drink water and juice at every chance you get. While traveling you should control your sugar, coffee, and alcohol intake. Be smart when it comes to eating out and avoid unhealthy looking restaurants. Keep clean and avoid touching your face and eyes and use a hand sanitizer. Lastly, get enough sleep as two days in a row with less than six hours of sleep can give many a slight cold. Fruits help as well, so you can be at your best to have fun and enjoy your trip!
This guest article was written by Joyce Schreiner who is is a blogger from Manchester, England who had the chance to study Journalism in Germany as an international student. She loved the country so much that she decided to stay in Germany and live there. She blogs at www.GermanyStudyGuide.co.uk a website for UK students in Germany.