This is a guest post by Andrea Vollf. If you'd like to guest post on this blog, click here.
"Poor indoor air quality can cause or contribute to the development of infections, lung cancer, and chronic lung diseases such as asthma. In addition, it can cause headaches, dry eyes, nasal congestion, nausea, and fatigue. People who already have lung disease are at greater risk." — The American Lung Association (ALA).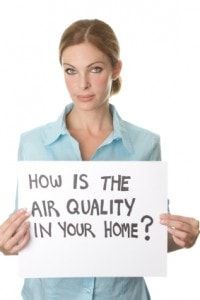 Times have changed. Children don't spend their free time playing outside and according to the EPA, Americans, on average, spend approximately 90 percent of their time indoors.
Furthermore, the U.S. Environmental Protection Agency (EPA) states that due to pollutants, the indoor air quality levels of a house can be 2-5 times, and occasionally, more than 100 times higher than outdoor levels. Consequently, having a great indoor air quality is essential.
Here are seven tips on how to improve the indoor air quality of your home.
1. Check your HVAC system
Make sure you replace your air filter on a regular basis and your entire system is cleaned every few years or immediately after a major renovation involving construction debris. Don't wait until your white air vent or return turn into black to call a cleaning company. For a cleaner, healthier air, make sure your HVAC has an ultraviolet light installed. The UV light will help purify the air inside your home by breaking down organic materials, such as mold spores, allergens and bacteria, and changing the structure of certain micro-organisms so that they can no longer reproduce. Keep in mind that UV light will not filter any non-organic particles. Therefore, it's important for you to have your ducts and returns cleaned every so often and your filters replaced regularly.
2. Adopt a smoke-free policy in your home
Cigarette smoke by itself contains more than 4,000 chemicals. Smoking can give you cancer, breathing problems, heart attacks, and stroke. Furthermore, secondhand smokers will be inclined to develop ear and respiratory infections, asthma, cancer, and children may suffer sudden infant death syndrome (SIDS). Protect your health and the health of your loved ones by prohibiting the use of tobacco and any other smoking substances inside your home.
3. Clean up your home regularly
Clean up your home on a weekly basis, by mopping, sweeping, vacuuming, and dusting off all the dirt that doesn't belong to your home. Weather allowing, open up your windows for few hours to bring some fresh air into your home.
4. Use only green cleaning products
It feels great when you walk into your place and it smells clean, but do you really know what is inside your cleaning product? By adopting a green cleaning product policy in your home you will eliminate a massive amount of chemicals entering in your home.
5. Utilize plants that filter out chemicals
Very few people know about this but in the late 80's a study conducted by NASA and the Associated Landscape Contractors of America (ALCA) revealed that certain species of plants can convert common volatile organic compounds (VOCs) into oxygen. Besides being pretty, softening the space, and bringing the outside in, those specific plants (foliage and flowers) will also help you to breath cleaner air. Among the plants considered to be living air purifiers we have: aloe, azalea, bamboo palm, Chinese evergreen, chrysanthemum, English ivy, Gerber daisy, golden pothos, heart leaf philodendron, peace lily, red-edged dracaena, snake plant, spider plant, warneck dracaena, and weeping fig.
6. De-clutter your home
As time passes by we tend to accumulate more things than we actually need. Regardless if you are a pack rat, a coupon maniac, or if you just like to shop bulk for your family, living in a cluttered environment is very unhealthy as it will collect a lot of house dust containing microscopic dust mites (a major allergen), mold, and tons of pet dander (even if you don't have a pet). A great way to avoid clutter in your home is by going over your closets on a regular basis and tossing everything that is broken beyond repair or expired such as food and medicine. Donate or sell all the clothes you haven't worn in over a year. Go paperless with your bills and prefer e-books to paperback ones.
7. Know what you are bringing home
Many interior finishes and furnishings come loaded with pollutants, including formaldehyde and many other chemicals. Next time you are shopping for your home, look for formaldehyde free products, low VOC paint, and, if possible, choose products carrying Green Seal and Green Guard labels.
If you follow these simple steps it will help to improve the indoor air quality of your home and allow you to breathe better and live a more healthy lifestyle.
This guest article was written by Andrea Vollf, LEED AP ID+C, who is a registered interior designer and sustainability professional with over fifteen years of experience in the interior design and marketing industries. Andrea also enjoys writing about air quality and control. Ms. Vollf is an active member of the U.S. Green Building Council – Illinois Chapter, with in?depth knowledge of all aspects of Sustainability – Social, Environmental and Economic.
Please subscribe to my blog using the RSS link or email updates,follow me on Twitter, or on Pinterest.
If you enjoyed this post please click on one of the icons below and share the love.