This is a guest post by Lori-Wallace Roberts. If you'd like to guest post on this blog, click here.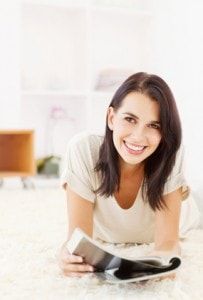 You've no doubt heard the old adage, "Home is where the heart is!" Well, there's definitely no truer statement, but unfortunately, home is also where the stress often is! Wouldn't it be fantastic to have a home environment that would help eliminate your stress instead of adding to it? Although it might seem like an overwhelming task, it is possible to create a stress-free environment in your own home by following a few simple rules.
1. Clear the Clutter
There's really nothing worse than walking into your house after a hard day's work and feeling overwhelmed by a cluttered environment. You may only have a small amount of clutter, or if you have kids, you may have massive amounts of things piling up around your home that you just need to get out of the way. Begin with the easy stuff such as old newspapers, magazines, junk mail, broken items and clothing that no longer fits. From there, go through each room in your home and pare it down, keeping simplicity in mind. Remove the items you just don't need anymore and get rid of items you don't love.
2. Optimal Organization
Now that you've removed the clutter, it's time to organize what's left. Certainly, when you run a household and have a family, you just have a lot of stuff. The key to keeping your house clutter-free is organization. Regardless of what items you have, if they're in your home, they should have a place of their own to stay at all times. Separate and sort like items for storage in decorative bins or baskets throughout your space. In addition, label items so you can find them when needed.
3. Utilize Scents throughout the Home
At one time or another, you've probably lit scented candles and indulged in a luxurious bath to ease your stress. Scents can make a huge impact on your overall well-being and have actually been proven to reduce your stress level. Whether you choose essential oils, scented candles, or another method, choose scents such as jasmine, vanilla, or other citrus blends. Intersperse them throughout your home and keep them lit for all-day long stress relief. Before bed, spray lavender on your bed sheets for a luxurious and relaxing slumber.
4. Consider Potted Plants
Can you believe that studies have shown that plants can reduce blood pressure and help alleviate stress? Nearly any plant will be beneficial, but popular stress-relieving plants include English Ivy and Chinese Evergreen. A few plants placed strategically around your home can welcome you and bring a smile to your face at the end of a tough day.
5. Create an Individual Oasis
Create your very own individual oasis somewhere in your home. Whether you can spare an entire room or just a small nook, make your very own grown-up timeout space where you can sit for a few moments or even a few hours. Make this area yours and don't allow anyone else to intrude on your time in your space. Surround the area with things that relax you, such as a good book, soft candle, and cozy blanket.
If you follow all, or even a few of the steps outlined above, hopefully your home can be that true stress-free haven that we all strive for it to be.
This guest article was written by Lori-Wallace Roberts of Bedly Interior Decorating. Lori enjoys spending her time practicing yoga, playing scrabble with her friends and doing anything related to interior design.
Please subscribe to my blog using the RSS link or email updates,follow me on Twitter, or on Pinterest.
If you enjoyed this post please click on one of the icons below and share the love.