This is a guest post by James Bentham. If you'd like to guest post on this blog, click here.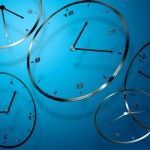 Business has evolved significantly over the past decade. While there are a limited number of hours in a week, the number of goals that an employee must meet each week has increased. Many businesses and organizations expect employees to maintain a high level of productivity without entering overtime. The following time management tips provide simple ways for managing one's time in a work or personal environment.
1. Identify and Eliminate Distractions
It's important to avoid any activities that can distract one from work. These distractions can include socializing, watching television, surfing the internet, and interacting through social media. While these activities can provide a break from a dull work environment, they can be a huge time sink.
One way to minimize distractions is by turning off an internet connection. If a job doesn't require internet access, then try disabling it for a few hours. This can be accomplished by disconnecting a network cable, turning off a personal router, or getting away from a computer screen. Many types of work can be completed without the use of a computer. If one is researching or studying information, try printing that information onto paper. This will provide a medium that offers minimal distractions.
An e-reader can be a good way to minimize interference when working. Work documents can be uploaded to a simple e-reader with minimal features. This will prevent one from wasting time on email, internet surfing, and other distractions.
2. Define Goals and Consider Time Management Software
Time management software can be a great way to keep track of goals when completing a job or assignment. An actionable goal forces an individual to work on a set schedule. Sometimes it is beneficial using a software-based solution to manage your time. It can help you stay on track and focused.
3. Minimize Lost Time due to Friends and Family
While it's never fun to be unfriendly, there are times when people must understand and respect boundaries. It can be difficult to say No to a friend, but it's important to communicate that one must complete his or her work.
For people who work from home, distractions from family members can be challenging. Try setting aside a separate room for your home office that family members can't enter during the day. While this may seem antisocial, it can be the only way to complete your work. In addition, request that family members not ask for help with chores during a workday. If you are up front about it, they should understand.
4. Define Work Times
You should create a defined work schedule for each day. This will prevent free time and work time from blending. Free time and breaks can often encroach on one's work schedule. The best way to do this is by setting a rigid working schedule.
Set aside an eight hour period each day where one has to do work. While it's OK to allow a break for lunch, it's essential to make sure there are no other distractions.
5. Is This The Right Work?
While not all work can be enjoyable, procrastination may be a symptom of a larger problem. A fear or sense of dread about work may indicate the need for a new career. Explore other options that can provide both enjoyment and a secure financial future.
Time management should be a primary focus when it comes to your workplace productivity. Hopefully these five simple and effective time management tips will help keep you focused and on track each and every working day.
This guest article was written by James Bentham who specializes in business software solutions. He has been creating web content for over 6 years and specializes in business and technology topics. He is always looking for ways to be more effective at work and hope to impart some helpful tips along the way.
Please subscribe to my blog using the RSS link or email updates and follow me on Twitter.
If you enjoyed this post please click on one of the icons below and share the love.