This is a guest post by Erin Leigh. If you'd like to guest post on this blog, click here.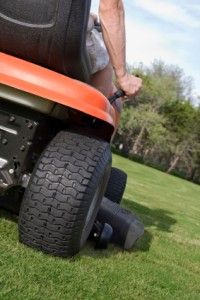 It may still be January, but the winter season is slowly coming to an end. The days will be getting longer, the weather warmer, and that ushers in one of the best things about spring: spending more time outdoors.
For most homeowners, that means breaking out your green thumb and putting some life back into your lawn and garden for spring. Here are five tips that will ensure a green lawn and a healthy garden when warmer weather is here for good.
1. Remove excess debris
Winter brings more than just snowfall. It likely brought a pile of debris, leaves, dead grass, and sticks that helped insulate your lawn and garden during the cold months but will suffocate it during the spring. Raking them up will also help you aerate the ground for better airflow. Bonus: Take this excess debris and compost it to condition the soil when you start planting.
2. Revitalize dead grass with new seeds
Your lawn will have a natural life cycle with the seasons, but sometimes patches won't make it all winter. In those areas with dead grass, rake it heavily to open up the surface. Then, apply a fresh layer of grass seed. You'll need to water this area more frequently than the rest of your lawn to ensure substantial growth.
One common problem in areas with heavy snowfall is snow mold, which are patches of dead, matted grass that didn't receive enough oxygen during winter. Unfortunately, there's not much you can do to treat it. It'll stay inactive during warm months but come back during the cold. To prevent it next season, mow your grass for as long as it's still growing, and apply nitrogen fertilizer just before the grass becomes dormant.
3. Weed out young weeds
If you see any weeds now in your garden bed or lawn, pull them out now. It'll be easier to do since their roots are shallow. To prevent future growth of the weeds, cover the spots with a fresh layer of mulch, about 3-4 inches. Be sure to leave a couple of inches of space between the mulch and your plant stems or tree bases to reduce any rot from appearing.
4. Test your soil
Your soil's pH level will change and may drop because of the climate change, causing it to become too acidic and will hinder growth. You can buy a home soil pH test at any local hardware store, or you can test it yourself. If the pH level is below 6, add ground limestone to your soil several weeks before you start planting in order to neutralize the acid.
5. Prepare for hard frosts
Just because spring is coming, you're not out of the clear yet for colder temperatures. Throughout February and March, there's still plenty of time for a hard frost that could kill any young seeds — peas, spinach, and lettuce are common vegetables planted early — that you've already planted. Keep an eye on the temperature, and if a frost is coming, cover your seeds with anything. Yes, anything. You don't need to buy something specific: a blanket, a bucket, a cardboard box or even a flower plant will work just fine.
What are some other tips you have for preparing for a green lawn and a healthy garden for spring?
This guest article was written by Erin Leigh who works in marketing for GelTech Solutions. She focuses specifically on Soil2O, an eco-friendly soil conditioner that allows plants to retain more water in their root zone.
Please subscribe to my blog using the RSS link or email updates,follow me on Twitter, or on Pinterest.
If you enjoyed this post please click on one of the icons below and share the love.