This is a guest post by Simon Noel. If you'd like to guest post on this blog, click here.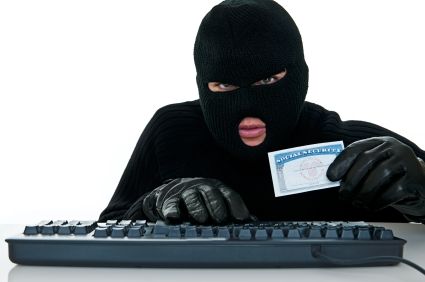 Fall and winter are officially on their way. For most of us this means frigid weather, snow storms, and icy roads. If you're like me, you want to avoid this frightful weather at all costs and are stocking up on firewood, hot cocoa, and soup recipes to keep warm.
Many people begin to utilize online shopping even more during the fall and winter seasons due to the convenience of being able to buy everything you need right from the comfort of your home. While online shopping is easy, it also requires you to take more protective measures.
When you purchase online you are required to share much of your personal financial information, ultimately leaving your information vulnerable to threats if you do not take the proper precautions to protect your identity. Use the following tips to protect your credit, finances, and identity.
1. Go Where you Know
Stores with a trusted name are your best bet when online shopping. Be sure to check that the spellings are accurate of the sites that you are trying to visit. The slightest misspelling can make all the difference of protecting your identity. By not noticing the small difference between .net vs .com you can fall into the trap of a scammer.
[sc:medium_rectangle_adsense_left]
2. Sites Should be Locked
Pay close attention to website URLs. Many secure sites start with https://. Also search for a tiny lock in the right corner of the website. These small locks symbolize a secure site. Do not give your financial information out via email.
Report anyone that requests your personal information via email. Never give anyone your credit card through email. PayPal is a safe way to purchase and make payments online. It is widely accepted and probably one of the safest way to make online payments and to receive payments.
3. Give out Minimal Information
If a site asks for your social security number or birthday you should definitely report them and not purchase a product from their site. No store would ever need that information from you. That is extremely confidential information that could be used by criminals to do serious damage to your identity and financial property. As a general rule of thumb, always give out the least amount of personal information that even secure sites require. If a question is optional and requires personal information, opt out of leaving a response.
4. Frequently Check Your Billing Statements
Even people who rarely shop online should get into the habit of regularly checking their billing statements. Check to see if there are any charges that you do not remember or recognize, and contact your bank immediately if you notice anything out of the ordinary. Only pay your credit card bills once you have checked that all charges are accurate. The sooner you catch billing issues the better, so check your statements at least once a week. Try to open an account with a bank that sends you frequent alerts if anything seems suspicious within your account.
5. Make Strong Passwords
[sc:link_unit_right]The sole purpose of having passwords is to protect your accounts. However, many people tend to recycle extremely simple, easy to guess passwords. Make your passwords more extensive. Avoid using letters or numbers in order in your passwords. Also avoid using your birthday, name, or any other important dates or clearly public information in your password.
Use the above tips from Protection 1® to help protect the integrity of your finances and identity while shopping online.
This guest article was written by Simon Noel who is a staff writer for Protection 1®, which is the 2nd largest home security system company in the United States.