This is a guest post by Ricky Peterson. If you'd like to guest post on this blog, click here.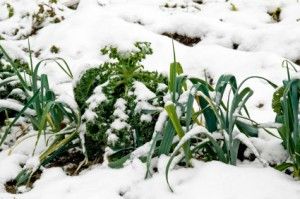 After enjoying the buds of spring, blooms of summer, and ever changing colors of autumn, winter can be a depressing and scary time for avid gardeners. The first flakes of snow, while delighting small children, can be worrisome for those of us who have poured our hearts into our backyards.
Will your beloved plants survive the frost? Could you bear it if all that hard work you put in for the past nine months went to waste? Well, there are a few things you can do to protect your leafy companions. Read on, green-fingered friends, and all you'll have to worry about when the snow arrives is whether you have a carrot for your snowman's nose.
1. Cover Up
This one makes perfect sense when you think about it – we cover ourselves up, so it's wise to do the same with our plants. Use an old sheet, or a frost cover that you can buy in garden centers, to cover plants with buds, such as cherry trees or camellias. If the winter is really cold, consider even using an old quilt to offer your plants some warmth.
Avoid using plastic on top of plants at all costs, as this can end up actually making the plant too hot. Move plants in containers nearer to the house, where it is warmer and more sheltered. However, plastic can be used around containers, as can bubble wrap and foam for added insulation.
2. Feed Me Seymour
Give your plants plenty of nutrients in the form of compost and mulch. Also, if you know that a big freeze is coming, water your plants beforehand. This allows your plants to get the water they need before the freeze occurs, when it might be difficult for your plants to reach the water they need.
3. Keep Planting
Though it seems like everything is dying off in winter, there is a lot of activity going on below ground, and providing the ground is soft enough to dig a hole, you can still plant certain species. For instance, November is the perfect time to sow overwintering onions. It's also a good idea to plant hardy container plants into the ground, if only for the winter, for extra protection.
4. Take the Outside Inside
Of course you won't have space to bring your whole garden inside, but wherever possible, bring house plants indoors – especially exotic plants. Make sure that you spray them thoroughly with insecticide so that your home doesn't become infested with pests. Check that the insecticide isn't harmful to people or pets before using. Also, place your house plants in indirect light and away from heating vents and drafts.
If you don't have space in your house, consider clearing space in your shed or garage for your plants to spend the winter, if the space gets enough light. Also, make sure you don't water them too much – lots of plants die over the winter due to soggy, cold roots. Only water when the soil is completely dry – the same goes for the plants in your garden.
5. Don't Be a Crackpot
Once your favorite pot has shattered, there's no getting it back – and the cold weather is going to be as much of a problem for your pots as it is for your plants. With that in mind, check your pots regularly and repair them wherever possible. If you have the space, consider planting your potted plants while they are still in the pot to offer added protection to both.
This guest article was written by Ricky Peterson, who works at Swallow Aquatics, which sells pond and garden supplies. Outside of work he likes spending time outdoors and enjoying his small but beautiful garden. He enjoys growing whatever veggies he can with the small amount of space he has available.
Please subscribe to my blog using the RSS link or email updates,follow me on Twitter, or on Pinterest.
If you enjoyed this post please click on one of the icons below and share the love.