After the presents have been opened, the New Year's celebration is over, and your vacation break from work is done, the post holiday blues may take over your life.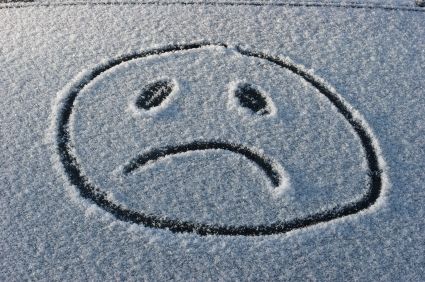 The snow has piled up outside and the temperatures have plummeted to all-time lows. Maybe you have gained a few pounds eating uncontrollably during the holiday break or you've tipped a few more beers than you typically would. And your college student has spent a good month with you and now has returned to college life and you're feeling the pangs of separation from your child once again. Basically what you are feeling is anxiety. We all have anxiety in our lives but dealing with it and overcoming anxiety is the tough part. There are a few steps that you can take to make the post holiday winter blues go away.
Make plans
I don't know about you but I need things to look forward to. I certainly understand that you probably have just laid out a good deal of money to buy presents for the holidays so spending money in the near future is probably not high on your priority list. Now I'm not talking about spending thousands of dollars on a European vacation (but if you can, go for it). I'm talking about making plans for a weekend break in the mountains or taking some time off during your younger child's February school vacation. Just set something up even if it's one night in a local hotel just to break away from the humdrum of the post holiday doldrums.
Get Active
During the holiday season a lot of us tend to get away from our normal routine. My normal routine involves going to the gym the first thing in the morning on a regular basis. Admittedly I am way out of my gym routine and must get back into it. I always feel so much better when I do and I am making the monthly gym payments so it makes sense to get back to being active. And it certainly will help rid those unwanted pounds that always seem to crop up during the holiday season.
Text your child at college
This tip is for those of us who have children away at college. I am not a big fan of texting because I think it can be abused. But, if you have a child away at college, texting is one of the better methods of communication. Why, you might ask? It is much more indirect than a phone call. With a text your child can be contacted when he or she is in class, at a rehearsal, or at the dining hall. Your child can return your text when they have the availability. An email will do the same thing but I think a text is much more immediate for most kids and they prefer this mode of communication. I know this sounds a little strange but it is wise to keep in mind how your child wants you to behave. As a result of keeping in touch with your child, those pangs of separation anxiety will be reduced and you will feel that close connection with your child. Believe me, it helps. I know because I am living proof.
Plan a project
This could come under the heading of Get Active but I'm talking more of tackling an inside project that you always wanted to accomplish. It could be anything from painting a room, converting your basement into a playroom, or just working your hobby such as woodworking or pottery. Maybe you've always wanted to replace those rugs with hardwood floors. Working toward accomplishing a goal will transform your focus and should help alleviate those post holiday blues and anxiety.
Organize
With all of the time that you spend inside during the winter months one thing that you could do is to decide to take a more organized approach to your life. Organization should add simplification to your life which should alleviate anxiety. If you are feeling overwhelmed with your finances, for example, then utilizing a free online money management tool such as Mint may help you feel more in control of where your money is going each month. Mint may just alleviate some of your financial stress. Or maybe just organizing your basement or your garage will help simplify your life at home. Do not underestimate the power of organizing your life. For me, it makes a big difference in dealing with unexpected circumstances that life can throw at you.
If you're trying to deal with the anxiety that the post holiday winter blues have dealt you, try incorporating some of the steps laid out here into your life. Maybe then, before you know it, the winter blues will melt away and the warmth of the spring sun will shine upon you.
Please subscribe to my blog using the RSS link or email updates,follow me on Twitter, or on Pinterest.
If you enjoyed this post please click on one of the icons below and share the love.