This is a guest post by Paul Premson. If you'd like to guest post on this blog, click here.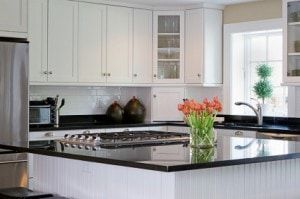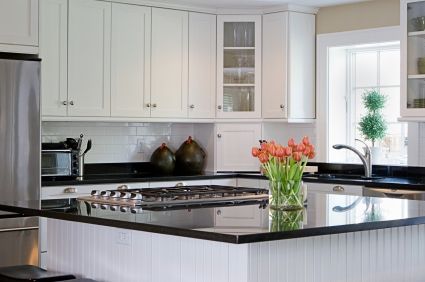 Whether it is a large or a small space, organizing a kitchen can be difficult. From wayward pots and pans to dirty dishes piled in the sink to cumbersome tables and chairs, it can seem as though you'll never get your kitchen organized.
By following some simple steps, maybe you too can learn how to organize a kitchen.
1. Take Inventory
Before you can even begin to get an organized kitchen, it's important to take inventory of everything in your kitchen. From silverware to appliances, make a list of everything you have, and then sit down and organize the list. Doing this will not only help you get started on the actual organization process, but it will also help you see what you need and what you don't need. Many kitchens have unused kitchen gadgets that simply take up space. Consider donating any unneeded or unused items to charity or to friends.
2. Plan out a New Space
Once you have organized your inventory list and gotten rid of unnecessary items, it's time to plan out a new space. A good idea is to draw out a diagram of your kitchen, including all cabinets, pantries and appliances, and then begin to put items together in groups.
For example, you could keep all of your silverware in one drawer, and then keep your knife block and knives above that drawer, as all of these items are utensils and will be used as such. Another option could be to clear out an area of your kitchen countertop and put in a coffee station.
You could place a single cup coffee maker here or have a place to store your pour over coffee cone and filters. When you're drawing out your diagram, try to keep the flow of your kitchen in mind. Because you use your potholders to get things out of the oven, keep them near the oven, not in a drawer on the other side of the kitchen.
3. Rearrange Furniture
If you have furniture in your kitchen, you'll also want to consider rearranging it to improve your workflow. Some people have their dinner table and chairs in the kitchen, and these items can get in the way. If you can, try to find a separate place nearby for these items, such as a small dining room area off to the side. Also consider moving decorative tables and stands, as well as trash cans. With just a little rearranging, you can end up gaining a lot more space.
4. Organize Cabinets and Drawers
After you have begun rearranging and organizing kitchen items, it's time to organize kitchen cabinets and drawers. Over time, it becomes easy to let these areas become unorganized. You may want to invest in some kitchen cabinet organizers and kitchen drawer organizers.
Go through any spices, ingredients and food products, and check for expiration dates, as well as for usability. Many people find that they have certain food items that they purchased months ago and have only used one time. Get rid of items that are taking up space or that are expired, as expired food products may harm your health. Organize your kitchen cabinets and drawers according to the different categories you made earlier in your diagram.
5. Stick to a Plan
The biggest key to organizing your kitchen is to stick to an organization plan. Once you have organized your kitchen, try to continue to keep items where they belong. When you come home from the grocery store, place items in the appropriate place, and try to wash dishes shortly after using them. This will keep your kitchen from falling back into an unorganized state, and will help you develop a pattern of organization for life.
Keep in mind that you don't have to get everything done at once. Organizing a kitchen should be thought of as a project with each step requiring individual attention.
You may also want to ask yourself if you're using all of your kitchen space effectively. Is there anything you could do on a daily basis to help you keep your kitchen organized?
This guest article was written by Paul Premson who works over at Cliq Studios, a kitchen cabinets company. Paul spends most of his free time cycling and sharing his knowledge with blogs like this one.
Please subscribe to my blog using the RSS link or email updates,follow me on Twitter, or on Pinterest.
If you enjoyed this post please click on one of the icons below and share the love.