This is a guest post by Tiecen Anderson. If you'd like to guest post on this blog, click here.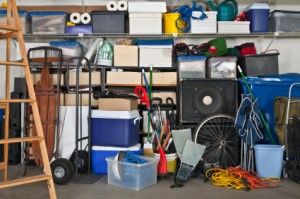 Garage organization can be an overwhelming process, especially if it's been a while, but it doesn't have to be if you take it one step at a time.
Following a few organizational tips can help you to get your garage in tip-top shape in no time. You can save yourself a whole lot of stress by following our step-by-step plan and you'll be pleasantly surprised with the results. If you're tired of your disorganized garage, you should read on and then take action!
Step 1 – Clear Out
The first thing you need to do when organizing the garage is to give yourself a blank canvas. Pull everything out of the garage and set it in the driveway. This will keep you from shuffling everything back and forth in your garage and never making any headway.
Step 2 – Clean Up
Now that the garage is empty, sweep it out, spray it out with the hose, and get rid of the cobwebs. This is the perfect opportunity to paint or lay down epoxy flooring. Clean and dust items before putting them back in the garage, and the end result will be beautiful!
[sc:medium_rectangle_adsense_left]
Step 3 – Install Organizational Aids
Installing shelving units and cabinets is most easily done while the garage is empty. Choose storage aids that allow you to utilize the vertical space in your garage, such as hooks and panels. Decide which areas of the garage you want to use for storage, and get it set up to move things back in.
Step 4 – Sort and Toss
Did you think you were ready to move back in now? Not so fast! If you just push everything right back into the garage, you're going to end up with the same mess. Sort everything into sections outside of the garage. Decide which items you're keeping, which you're donating, and which you're throwing away. Group the items you're keeping into categories like daily use, seasonal, and other. Another way to group things might be yard equipment, sporting goods, holiday items, and tools.
Step 5 – Put it Away
Now that everything is sorted, you're ready to put things away. Put the seldom used, seasonal items in more out-of-the-way places, like in the rafter space above the garage. Keep commonly used tools available in your workbench space. Organize yard equipment and sporting goods in large rubber garbage cans or hang them on hooks on the walls. Clearly label all of your storage bins, and keep like items together. This will help to keep things from getting jumbled again.
[sc:link_unit_right]
Once the garage is all cleaned out, a little effort will go a long way to keeping it organized. Avoid loading up on unneeded items and try to keep it simple. Take the time quarterly to briefly go over what you're storing in the garage and make sure everything is in its place. Put things back where they belong when you're done using them, and your garage will continue to be efficient and functional.
One way you can organize your garage or any other room of your house is to incorporate Flow Wall storage systems. Flow Wall is a simple and elegant modular system, so you can start small and expand as your needs change. With an ever-growing number of specialty storage accessories, every storage project is in good hands with Flow Wall.
This guest article was written by Tiecen Anderson who worked in sales and marketing for a large insurance company. Before starting a family, she decided to switch gears and pursue a career that would give her a little more time at home. She finished up her degree from California Sate University in 2008 and started picking up work as a corporate web content writer. Her background in sales has allowed her to craft natural, informative content that is SEO rich and customer friendly. She enjoys learning new things every day as she works with a wide variety of clients, building accessible, professional content for their websites.