This is a guest post by Adam Snape. If you'd like to guest post on this blog, click here.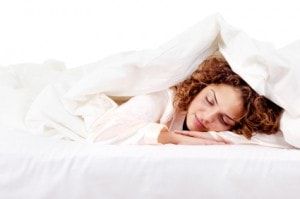 From irritable moods to reduced awareness, the side effects of sleep deprivation are nothing to scoff at. Lack of sleep can leave us feeling slow, angry, and inattentive, as well as making us far more likely to catch common illnesses.
Thankfully, avoiding the side effects of poor sleep is very simple. By applying these five sleep aids, you can wake up feeling energetic and ready to make the world a better place, instead of feeling sluggish and wishing for an extra cup of coffee.
1. Plan your evening nutrition around optimum sleep
Sleep is when your body carries out its maintenance work – restoring hormones to their optimal levels, repairing torn or damaged muscles, and metabolizing food into energy, for example.
Just like a repairman can't fix your home without supplies, your body can't repair itself without a source of dense, useful nutrition. Certain foods are ideal sleep aids, while others are a recipe for a night of insomnia and discomfort.
Try to avoid sugary foods and soft drinks before you go to sleep, and prioritize foods that are rich in protein and good fats. As tempting as dessert may be, it can lead to a frustrating night of staring at the ceiling if you eat it too close to bedtime.
2. Use sleep-inducing drinks like chamomile tea and warm milk
Instead of eating dessert before you go to bed, try drinking a sleep aid like chamomile tea or warm milk. Warm milk, a favorite of mothers worldwide, is an excellent choice due to its rich nutritional profile containing protein and fat.
If you're a coffee drinker, try to have your last cup before 4PM. Caffeine and other common stimulants will prevent you from falling asleep, even if you feel tired and want to go to bed.
3. Use a comfortable and supportive mattress and pillows
Your mattress is to comfortable sleep as your shoes are to comfortable walking. Just like you'd never walk in shoes that don't fit you properly, you shouldn't sleep using a mattress that's too small, too stiff, or doesn't support your body.
Shop around for a high quality mattress that's soft, supportive, and so comfortable that you'll never have trouble falling asleep. It's also a good idea to choose pillows that are the right height and thickness for your head to ensure optimum sleep.
4. Dim your interior lighting when you start to feel sleepy
When your body is exposed to darkness, it starts producing melatonin – a powerful hormone that instructs your brain to start feeling sleepy. One of the easiest ways to increase your melatonin production is to darken your home during the evening.
Try switching off your lights – or dimming them, if you have a dimmer – about half an hour before your bedtime. Your body will adjust to the darker lighting and start to feel tired, making it easy for you to drift off to sleep.
5. Have a consistent morning wake-up time
One of the most important aspects of quality sleep is being consistent in your wake-up habits. When you wake up at a different time every day, your body will naturally feel sleepy at a different hour every night.
Set your alarm clock to a consistent time and force yourself to get out of bed as soon as you hear it ringing. Sticking to a seven-day wake-up schedule (yes – even during the weekend) will help you enjoy deeper, more refreshing sleep.
Hopefully these 5 helpful sleep aids will help you enjoy fuller and richer waking hours!
This guest article was written by Adam Snape for The Odd Mattress Company, the UK's leading manufacturer of large mattresses. Visit their website to learn more about how a custom mattress can help improve the quality of your sleep.
Please subscribe to my blog using the RSS link or email updates,follow me on Twitter, or on Pinterest.
If you enjoyed this post please click on one of the icons below and share the love.