This is a guest post by Michelle Maurice, a Certified Staging Professional. If you'd like to guest post on this blog, click here.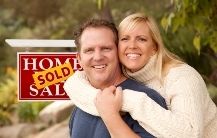 Gone are the days when simply putting out the For Sale sign and opening up the front door brought you immediate offers, and over your asking price! Today's real estate market is much more difficult to navigate and requires a more deliberate approach.
Buyers are more savvy and banks are much less willing to lend money. But, even now, houses are selling and some very quickly, even over asking price and with multiple offers.
Smart sellers and real estate professionals know that selling a home is a very personal and emotional undertaking. Your home needs to make a great impression, much like wearing your best suit to a job interview or having your car detailed before you trade it in. That's where home staging comes in.
Staging a home is the process of preparing a home for sale by highlighting its positives and downplaying its perceived negatives. Staging your home focuses on the house rather than the stuff. Staged homes, on average, sell 2-3 times faster than homes that are not staged and sell for up to 6.9% more.
Staging homes has become a very important business since a certified staging professional will come into your home and give you practical advice on what you can do to sell your home quickly, even in a bad economy. Sometimes the homeowner is much too emotional during this time and it takes someone who has no emotional ties to the home to point out changes that can be made, and oftentimes, at a very nominal cost.
Most times simple changes will make a significant impact. Here are 5 simple home staging tips when it comes to staging a house that will get you started.
Home Staging Tips
1. Enhance Curb Appeal
Stand at the end of your driveway and take a look at what people see. Curb Appeal is the most important first impression and will set the stage for potential buyers to come in or keep driving.
The house should be clean, nicely landscaped, and free of any obvious problems such as chipping paint, missing shingles, broken steps, etc.
2. Concentrate on Flow, Focal Points, and Defined Spaces
Enter through the front door and walk the house as if you had never been there before. Is the flow smooth? Are there furniture pieces in front of desirable focal points such as fireplaces or built-ins? Most people have too much furniture in too small a space. Are the spaces clearly defined and logical? Buyers should never question the purpose of a space and conversely, sellers can lead a buyer to that purpose with furniture and accessories.
3. Pay Attention to your Kitchen and Baths
Kitchens and baths sell houses. Depending on your price point and the value of homes around you, minor improvements to these spaces are always helpful. In the bathroom, replace dated knobs, faucets and light fixtures. Purchase a new shower curtain and rings and invest in new showing-only towels which can be brought with you to your next house. Minimize toiletries and get rid of that toilet brush!
In the kitchen, clear off the countertop leaving only 3 items, put away the dish rack and dish towels and add some fresh fruit and flowers. Replacing kitchen knobs and painting outdated cabinets also make a big impact for little money.
4. De-Personalize, De-Clutter, and Clean
Pack away your personal photographs and collectibles so potential buyers can envision themselves in this space. Minimize what's on the bookshelves, tables, and walls to complement the architectural details of the house without overwhelming the senses. Give the room space for people to let their eyes rest without distraction. Clean out those jam-packed closets! The more crowded they are, the more the chance that a potential buyer will assume that there is limited storage capacity in the home.
5. Remove Animal-Related Items and Odors
Put away animal toys, beds, and food bowls for pictures and showings. People with allergies will automatically discount your home even though it may be spotless. And although you may not notice, some animals do leave an odor so ask a trusted friend or your real estate agent if your house has any detectable pet odor. Clean the carpets and furniture if needed and be extra vigilant with anything that might cause an offensive odor.
And remember this, when you're working hard and questioning your investment of time and money, you only get one chance to make a great first impression and home staging is always cheaper than your first price drop! I hope you can utilize these home staging tips!

Michelle Maurice is a Certified Staging Professional working in Massachusetts and southern New Hampshire. Her business is called Inside Out Staging and Design. You can view before and after photos on her website and her contact information is at the bottom of her Services page.