This is a guest post by David Morrison. If you'd like to guest post on this blog, click here.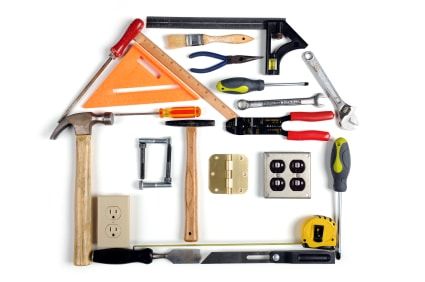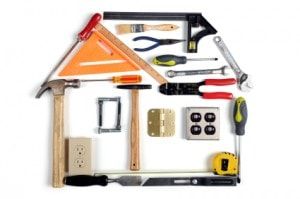 Your home is more than a just source of shelter and comfort when the weather is foul. It's also an investment. Treated right and well maintained, it will grow in value over the years. Regular remodeling and home improvements will also help boost the value of your sweet home. If you are making plans for things you want to change in the spring, here are five New Year Resolutions for home and garden to consider.
1. Improve the Outdoor Living Space
Your patio can become a true extension of the home that you look forward to reclining in after a long day. The long dreary days of winter are the perfect time to start planning your project. If you have a large new deck professionally built, it can be pricey but you can drastically lower that price tag if you are able to do the work yourself. Consider adding a pergola for shade to create a space that will help you unwind while drastically improving the value of your home.
[sc:medium_rectangle_adsense_left]
2. Invest in Hardwood
Carpeted floors are cozy in the winter, but hardwood is still more valuable. Whether you choose bamboo floors or engineered exotic wood floors, it's easy to find environmentally-friendly wood flooring that will last for many years. Wood floors are easy to care for, simple to maintain, and will increase the resale value of your home. You can save a lot if you lay the floor yourself, and wood floors are actually a good project for the average homeowner with some basic DIY skills.
3. Organize the Shed for Easier Gardening
If you are spending the winter dreaming of getting back in the garden, then you can benefit from improving organization in the shed. Get the tools out of the corner and off the floor. When your tools are neatly organized and hung on the walls or otherwise secured, you can find what you need in a timely manner. A hanging rack for gardening tools is easy to create by hanging a strip of lumber along the shed wall. Consider adding shelves for pots and small supplies. Another option is to hang pegboard. The pegs can be reconfigured countless times and customized to suit your particular needs. The cost is minimal, and it's a project you can finish in an afternoon.
4. Fresh Gravel for the Driveway and Rock Mulch Beds
A gravel driveway gets potholes with use, and the harsh winter weather can really leave it looking tired. Plan to add fresh gravel to your drive and walkways when the warm temperatures of spring return. Pull any weeds in the area and apply grass and weed killer before having the gravel delivered. Spread it around with rakes for a fresh look you will love.
[sc:medium_rectangle_adsense_right]
If you have rock mulch beds, which are so much better than cedar or pine mulch, you should dress them up a bit with a fresh topping. The benefits of rock mulch are numerous. You don't have to replace it every year and when you use your blower in the Fall to blow off leaves, the mulch doesn't blow away with it. It also is perfect for around the base of the house since it will detract ants and termites and it will disperse water that falls from your gutters or the edge of your roof line.
5. Exterior Maintenance
If you have stucco on the exterior of your home which is the exterior plaster material, then it's time to pay a little attention to the coating. Cracks in the stucco become welcome homes for insects, and they create an entry point for moisture. Eventually, it can lead to serious damage and costly repairs. However, you can address the problem yourself before it grows too large.
Remove any loose stucco before using a stucco base to patch the cracks and protect your home. If you are just coating over a crack, you should be able to finish the project in an afternoon. If multiple layers are required for holes, then the project will take a few days. However, it's a necessary part of home maintenance to protect your property from water and insect infestations. If you have brickwork, concrete, or wooden siding, the same is true for these materials on the exterior of your home as well as the gutters.
When you are trapped in the home by winter weather you should take this opportunity to start planning your projects for the spring. In addition to projects that will make your home more attractive, be sure to invest in the regular maintenance that protects your home and preserves property value. These projects can be done by most homeowners, so you can take pride in your home without breaking the budget.
This guest article was written by David Morrison who has over twenty years of experience in construction and renovation and is taking a little time out from all the hard work to help at UK Tool Centre.