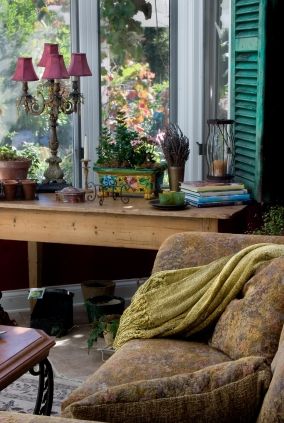 This is a guest post by Jennifer Rossi. If you'd like to guest post on this blog, click here.
Sunrooms are a beautiful addition to your home but, as a homeowner, you may wonder if the investment is worthwhile.
Industry reports reveal that homeowners who added a sunroom to their home retrieved about 51 percent of the cost when selling their home. So it's really up to you – a tranquil place to relax in the evenings or enjoy a summer day for some, is priceless!
Below are 5 more good reasons to add a sunroom to your living space.
1. All Season Enjoyment
A sun room is a comfortable little nook in your house for all seasons. Why exactly is it called a sun room? Obviously, it lets the sun in, but moreover with energy-efficient glass like Comfort 365 glass, it keeps the heat out during hot, summer days. In the winter you can enjoy a panoramic view of your surrounding winter wonderland while enjoying the warmth of your home.
2. Increased Living Area
It will add to your living area and at a cheaper cost than a stick built room. Some manufacturers and installers say that the time to complete a sun room is 60 percent faster than a stick-built-room. And if it's cheaper than a stick built room, it's definitely cheaper than standard construction consisting of brick and mortar. So if you need more space, a sun room is probably the most cost-effective option. You'll get more space for the money you invest.
3. Energy-efficient
Save energy by adding a sunroom instead of a regular room. Sun rooms allow natural light to flow through and energy-efficient glass and installation can save you loads of money in energy consumption in the long term. This type of sun room can also add more value to your home.
4. Stress Reduction
Reduce stress. There's something about natural light and a scenic view of the outdoors that instills a sense of rest and make it easy for you to de-stress after a hard day's work. It's also a great place for the family to come together and enjoy quality family time.
5. Multi-Purpose Space
A sun room serves a multi-purpose function. It can be used as a den, a guest room, a play room, a dining area or you can turn it into an indoor garden area adding to the beauty of your home. The options are endless and it's up to you how you and your family would want to make use of your sun room. For year-round comfort, remember to install heating and air-conditioning units to your sun room. Energy-efficient glass installation will add to your energy-saving benefits.
You should consult a local sunroom manufacturer and arrange for a free in-home consultation to see how a sun room can add to space and beauty of your home.
This guest article was written by Jennifer Rossi who has worked as a professional interior designer for over 10 years. During those years she has helped hundreds of families renovate and transform their living space into designs that are more functional, comfortable and energy-efficient. Jennifer has transformed historical homes, re-modeled patio rooms and sun rooms, made aesthetic use of replacement windows and doors, siding, roofing and landscaping.