This is a guest post by Victor Daily. If you'd like to guest post on this blog, click here.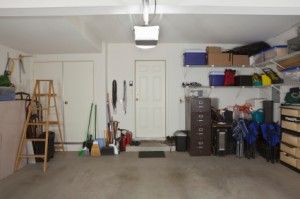 There are many different things that can be done to improve the status of a garage. Some people start with a clean slate and pack the garage with random things.
Pretty soon it becomes a large junky space that is not fit for anything. The following gives homeowners some creative ways to avoid this trap and make the most of their garage space.
1. The Sectional Divider Garage
Sometimes it can be hard to decide if the garage will be used as a hang out spot or a storage room. People that are unsure do not have to make a quick decision about this. To the contrary, people can make a decision to actually divide the space. Homeowners can allocate a certain amount of space to storage. They can use a sectional divider to make up walls between lounge space and storage bins. This gives people two different uses for the garage.
2. The Entertainment Center
Some people like to entertain guests. The house may not be enough to hold everyone. This is why the garage is a great alternative. Homeowners that are into sports can decorate the garage and turn it into a real game day spot.
All that they will need to do is get some insulation and air conditioning for the garage space. People can even get cable run to this area and place a television and furniture in the same space. Homeowners can make the space more comfortable with a refrigerator for storing drinks and nice plush carpets that add comfort to this entertainment space.
3. The Ultimate Workshop
Others may choose to turn their garage into the ultimate workshop and tool shed. Men, and some women, love to collect tools and work with wood or metal. Lots of people put tools all over the house and throughout the garage. The individual that loves tools will be able to store their tools and use them in the proper place with this type of storage space. A garage affords the woodworker plenty of room for their table saw and band saw.
Some people will organize their yard tools on hanging hooks and place other small tools inside of tool boxes. There are an assortment of things that people can buy for the garage to organize their tools. A whole new genre of organizational products has sprung up particularly for use in the garage and the basement.
4. The Garage Gym
Everyone that wants to work out does not have to go to a gym to do so. The garage is a great place for storing workout equipment. People can get multiple items like treadmills, weights, and exercise cycles all in one place. This is great because it doesn't require a gym membership.
5. Car Maintenance and Storage Area
Lots of people use their garage for storage, but many people still use the garage for the car. It often depends on where the garage is located. People that have a garage in the back of the home, for example, are less likely to put the car in the garage. People that have a garage that is connected to the home, on the other hand, are more likely to put the car inside.
This is the ultimate way to protect the car from thieves. Lots of people get their cars broken into when they fail to park in the garage. When people have their cars in the garage it is almost like having the car inside the home. This is why lots of people clear out their random junk and make room for their cars. The great thing about this is that people can service their car inside without enduring the elements of the heat or cold weather. They can check their fluids and become shade tree mechanics in the comfort of the garage. Homeowners can set up shelves that have different type of car accessories and tools for vehicles.
A garage can take many different forms for a homeowner. You can decide to use it for its original purpose which is for your car or you have the flexibility to utilize this space as an extension of your home that fits your personality, interests, and desires.
This guest article was written by Victor Daily who is a blogger and freelance writer who often writes about home improvement. He enjoys sharing remodeling tips and simple DIY advice. He is also a content writer for Quicklift Garage Doors.
Please subscribe to my blog using the RSS link or email updates,follow me on Twitter, or on Pinterest.
If you enjoyed this post please click on one of the icons below and share the love.