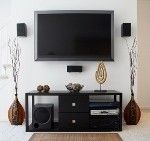 Everyone knows that after you've bought a house, bought all the furniture, and fixed it up a little bit, the last thing you want to do is spend more money. Having a nice house is important, and most home owners find unique and creative ways to make ends meet when decorating their homes. Something that a great deal of people struggle with is being able to get an adequate home entertainment system to use for themselves and guests.
Having a top notch system to watch movies and television, listen to music, and play slideshows is one of the key aspects of having a nice, comfortable living room. It's also one of the most expensive aspects of equipping your home. Here are some tips to lessen the financial burden of creating that special home entertainment system.
1. Check out second-hand stores
Second-hand stores check to make sure that all of their products work before they take them on to sell them. Often the products that they have are just as good as what you would buy brand new, and are usually significantly cheaper. Although second-hand stores do sell on the basis of what people donate or sell to them, you will probably be able to find all of the items to meet your needs if you find a large one near you or scour a few stores. You can also consider checking out consignment shops, electronics maintenance stores, or Salvation Army stores that are also likely to have nice televisions, sound systems, video game consoles, and DVD players for a cheap price.
2. Consider alternatives
Many large scale electronics companies are creating items that allow you to have all of the media that you have on your computer on your television as well, most of them also allow you to use things like Netflix and Hulu right through your TV screen. These alternatives are fairly inexpensive, but allow you to have all the benefits of cable, a video game console, a DVD player, and your TV built into one. Similarly, if you already have a computer that you are utilizing as your main source of entertainment, purchasing an external monitor might be a great alternative to buying a new, expensive flat screen TV. Monitors are usually significantly less expensive than full televisions, and you could plug your computer right into it to watch your favorite movies, play your favorite games, and listen to music.
3. Utilize package deals for internet, cable, and phone
Lots of companies will give you a cheaper deal on your internet and cable if you bundle them up with your phone bill. If you have a landline phone, considering a bundle package could greatly reduce the cost of having all of your entertainment amenities. Also, different service providers offer different deals based on their customers' needs. Talk to service providers near you to see which one offers the cheapest deals on cable programming, internet, and phone before you just decide to use one.
4. Evaluate your options
It is important to consider what needs you have going into the set-up of an entertainment center. Although it would be nice to have the largest TV, best speakers, and nicest Blu-ray player on the market are those really things that you need? If you are only using your television to watch news broadcasts, you probably don't need a 72 inch display. If you are an avid sports fan, you certainly might. Surround sound is nice, but if you don't need it, maybe a less expensive set of speakers set up in a similar way could work for you. If you have a small living room, you also might not have the space to fit all of your various devices. It is important to understand your means and needs and to then live within them. By evaluating the differences between what you need and what you want, you will then have a definitive list of the things that you will need to purchase to make your entertainment system dreams come true!
This guest article comes from the team at Connect Your Home, a retailer of home communication, security, and entertainment services. Connect Your Home connects consumers with a variety of products and services, such as cable, satellite TV, internet, ID protection, home phone service, and many more. Find the best cable service providers in your area at connectyourhome.com.
Please subscribe to my blog using the RSS link or email updates and follow me on Twitter.
If you enjoyed this post please click on one of the icons below and share the love.