This is a guest post by Mariana Ashley. If you'd like to guest post on this blog, click here.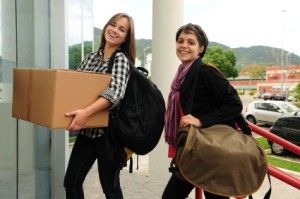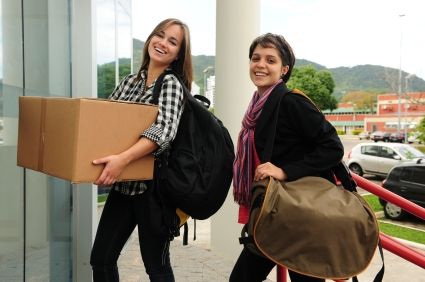 New furniture is expensive and, if you are in college, buying anything new for your dorm or apartment is pretty much out of the question. However, this doesn't mean that you have to live furniture-less or even design-less. Yard sales and flea markets are full of cheap, hand-me-down furniture pieces that can easily be transformed from drab to fab with a little determination and ingenuity.
Bring some style into your campus space by picking unique furniture pieces that don't require too much repair and that are light and easy to transport. Smaller pieces are also easier to restore and perfect for small spaces, like dorm rooms and apartments. Below are three refurbishing ideas that you can use to put a new and unique spin on older flea market furniture.
1. Refinishing Wood Furniture with Paint or Stain
Staining and painting can be difficult, if you don't know what you are doing. However, once you know the drill, it becomes an easy job that is well worth the effort. Before you begin, be sure to wipe down the piece of furniture and sand off all original stain or paint. Once the piece has been stripped, wipe down and vacuum away all wood dust, making sure the area is free of all debris. If you will be staining the piece, take a look at this article first from TLC.com. It will give you the lowdown on how to correctly stain wood furniture. Be sure to also follow the directions for use that are printed on the can of wood stain.
[sc:medium_rectangle_adsense_left]
If you will be painting your furniture, follow the same directions for cleaning and sanding the item. Before you paint, you will need to apply a primer. Canned paint and spray paint are both suitable for this project, but be sure to work outdoors if using spray paint. Use these directions from About.com for more details on painting wood furniture. Be sure to work in a well-ventilated area, as the fumes from stains, primers, and paints can hurt your respiratory system, give you a headache, make you dizzy and lightheaded, or cause an allergic reaction or nausea.
2. Decoupage Ideas
If you are wondering how to decoupage, this technique involves using glue to arrange paper cutouts into a design and it can turn any piece of furniture into a work of art. Start by choosing a table or chest of drawers will a smooth surface. Table tops are perfect for decoupage, as are drawer faces. Next, choose a wall paper design or other images or pictures printed on thick paper, and tear or cut several pictures or images that can be rearranged into an interesting design. Use glue to arrange the images onto the furniture surface. Once the design is complete, apply a clear varnish to give it a shiny, finished look. MarthaStewart.com features this great article on the art of decoupage and how to apply it to furniture.
[sc:medium_rectangle_adsense_left]
3. Reupholster a Decorative Chair
Although you probably won't have much space for a sitting area in your dorm room, you will have room for at least one unique chair to use at your desk or place in a corner. At a yard sale or flea market, look for an old, decorative dining room chair with a removable textile seat. If the chair needs to be refinished, remove the seat and use the same staining or painting directions given above. Go to your local fabric store and purchase new fabric and batting for the seat. If the seat needs more cushion, consider using foam. You will also need a staple gun to staple the fabric to the seat. To get a better idea of how to complete the task, use this YouTube.com video.
For more detailed information on how to complete each project, go to decorating or craft project websites, like DIYNetwork.com and MarthaStewart.com. Many books have also been published on the subject of furniture refurbishing and can be purchased online or at your local bookstore.
This guest article was written by Mariana Ashley who is a freelance blogger for www.OnlineColleges.net. Always interested in sharing online education advice and news, Mariana also writes about student life, careers, and lifestyle.