This is a guest post by Silvia. If you'd like to guest post on this blog, click here.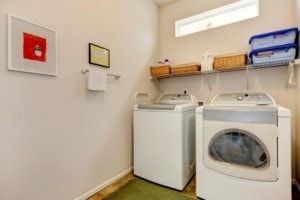 In today's busy world it is important that we organize our time properly, in order to accomplish all of our tasks for the day and still have time to relax. The household chores are probably the worst and most exhausting part of our daily work.
The laundry room, for example, can become a real mess sometimes but there's no need to panic because here I will offer you several useful tips on how to organize the chaos in only 15 minutes.
1. Envision the Perfection
The first thing you need to do is to envision the way you want your laundry room to look. Pictures in home magazines or on the internet can be a great source of inspiration for those of you who need it. It's important to have a picture of what you want in your mind before you can really get to that place. If you already know what you want you can proceed to the next step.
2. A Well-Organized System
As simple as it may sounds, one good system can make a big difference in your laundry room and in your home as a whole. Most people already have a certain type of system but that doesn't mean that it is the best possible one.
It is important to remember that you have to keep it simple. The laundry room should contain only the basic necessities – the cleaning supplies, hampers, washer, and dryer. You can always add something else, of course, but try to stick only to laundry room items. Any shoes or extra clothes you have lying around can go elsewhere.
3. Everything has its Place
Place all of your products on a shelf, preferably in the order you are going to use them with replenishments behind the ones that have already been opened. You can also use a box, a caddy, or some other storage container with an open top which will keep all supplies in place and at the same time will allow you to see and choose whichever you need.
You should also throw out any unnecessary or already expired products, supplies which disappointed you, or which you no longer use. If there is a little product left in some of the bottles then transfer what's left in a jar or in a smaller bottle. That way you will have even more shelf space. If you prefer keeping the iron in the laundry room, it might be a good idea to put the wall iron also there.
4. Time to Organize
If you don't want to wrestle with a pile of dirty clothes at the end of the day, our suggestion is to separate the laundry immediately. Use four different hampers for the dirty clothes – one for the darks, one for the colors, one for the whites, and another for your sheets. If your laundry room is too small for several hampers you can put them in the other rooms. By using that simple system your clothes will be always well-organized which saves a lot of time. Also, don't forget to put all of the clean clothes away after you washed them to avoid a new mess.
5. Let's Clean Up
Finally, it` s time to clean up the room itself. Use a duster or a mop to remove the dust and lint from the walls and the floor of the laundry room. Then continue onto the washer and the dryer. First, you wipe off the outsides of the machines and then move to the inside if necessary. Then clean up the shelves, the counter tops, and the laundry sink, if you have one. The last thing left is to sweep before mopping the floor. You can also try vacuuming the floor and under the machines to remove any dust left.
Here's how 15 minutes are enough to put our laundry rooms in order. As it turns out, a little organization is all we need to achieve all of our goals for the day and still have time for fun.
This guest article was written by Silvia for the professional cleaners from Fast Home Cleaning. They deal with organizing and cleaning on a daily basis.
Please subscribe to my blog using the RSS link or email updates,follow me on Twitter, or on Pinterest.
If you enjoyed this post please click on one of the icons below and share the love.