This is a guest post by Tina Jacobs. If you'd like to guest post on this blog, click here.
Digital books are changing the way we learn on a daily basis. In a way, I can fairly state that they are revolutionizing the educational system. Digital textbooks promote reading in a society where students would far prefer studying at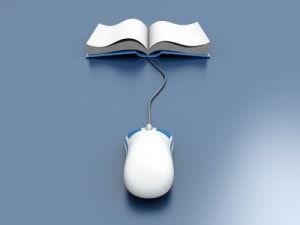 their computer or using their mobile device over putting their noses in an dusty, printed textbook. The education system must face facts. In today's society, students much prefer texting on a Smartphone, browsing the web via a tablet device, and taking class notes via a laptop instead of using a notebook and pen. That being said, digital textbooks fit the personal learning preference of many of today's students. Plus, more students nowadays prefer to rent textbooks of the digital variety over spending twice as much at the campus bookstore. Not only do digital textbook rentals save budgeting students a lot of valuable money and time, they also prefer to read via a screen.
If I haven't convinced you yet—here are 10 ways that I believe digital books are revolutionizing the education system.
1. Digital books cost half the price
Now that's a strong argument on the side of e-books if you're a struggling student. Tuition is costly enough when you add tuition, room and board, and high-priced printed textbooks. Not only are e-books approximately 50% less compared to printed versions, you might actually be able to get your hands on free digital books from the local library if you have a membership.
2. Digital textbooks make learning accessible to everyone
Suddenly students with visual impairments or fine motor disabilities can customize their digital book settings to alter text size, screen illumination, or choose to read books orally.
3. They offer multifunction study options
Most e-books are available in digital or audio format so students can multitask while exercising, walking to school, taking public transit, and even working as they study.
4. A digital book is learning made portable
Students don't have to suffer sore backs all over campus from hiking around with 2, 5-pound textbooks in tow. You have to admit those sociology texts are as heavy as bricks. But e-books are as light as the device you carry them on so a student can transport an entire library from home to campus and back without having to apply an ice pack each night.
5. Electronic textbooks teach collaboration
Ebooks are plentiful, meaning they are simple to share between students and even groups of people. The social aspect of sharing e-books promotes a value skill in collaboration, and collaboration is one skill that you need to get almost any job in the business world. Start your business training as a student of digital books by commenting, rating, and bookmarking pages for others to read.
6. E-books extend learning beyond the page
With a digital textbook, students are able to reference words and biographical references according to a keyword that's hyperlinked. This hyperlink can be used to provide additional education via an image, video, or text description to further add to the learning experience.
7. Digital textbooks are not set in stone
Professors and students can fix a grammatical or spelling mistake or alter the accuracy of a reference according to current events unlike with printed textbooks that can't be altered after publication.
8. Digital books save paper
If one thing is for certain, Mother Earth is thankful for the digital textbook because they save a lot of trees by means of outdated editions of textbooks. This translates to reduced paper waste in landfills as well as less gas used for the shipping of paper textbooks.
9. Digital textbooks keep it current
With digital textbooks, study stays as current as scholarly knowledge. And publishing occurs a lot faster so knowledge is never outdated by the time it's published in technical and scientific texts.
10. Digital books maintain our favorite books for future generations
The pages of my favorite classic books won't tarnish, rip, or become garbage due to natural wear and tear. Books can be forever preserved in digital format for future students to enjoy.
Whether you like them or not, digital textbooks are here to stay. If we try to emphasize the true benefits of a digital book as seen here, it may just be a lot easier to embrace this new and rapidly growing technology.

This guest article was written by Tina Jacobs who is a registered nurse and freelance writer who has written for numerous print and online publications on topics ranging from education to money saving tips for college students such as how to find cheap textbooks. Tina is a proud Georgetown University alum and plans to expand her writing portfolio while she waits to take her NCLEX exam. Most days, Tina can be found studying or writing in her beautiful bay window with her cat, Oscar, for company.
Please subscribe to my blog using the RSS link or email updates and follow me on Twitter.
If you enjoyed this post please click on one of the icons below and share the love.