This is a guest post by Raghad Rabah. If you'd like to guest post on this blog, click here.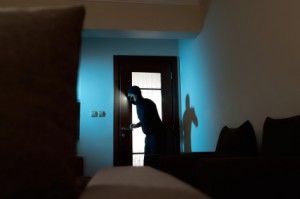 Whether you're in a good or bad neighborhood, there is always a possibility of an invasion.
If you're worried about a break-in or if you're leaving for vacation, here are 10 tips on how to prevent your house from any intrusion.
1. Secure Your Windows and Doors
These are the most common entry point for burglars. Always lock your windows and doors when you are away from home and at night.
2. Install Double Key Deadbolts
This prevents burglars from picking the locks, because it is more difficult. This is strongly recommended for doors with windows, to prevent the burglar from unlocking the door if they break the glass.
3. Install Motion Sensors
If a burglar is trying to sneak up to your house, the motion sensor will detect any movement and turn on the lights. This will scare the burglar off your property. Not only will it prevent a burglar from breaking in, it will also allow you to get into your home more easily.
4. Install Closed Circuit TV
Security cameras will also scare off any burglars. Put a sign on your lawn that the property is monitored. Placing CCTV cameras at the outer corners of your house will help covering the whole area. You can set your camera to also record when it senses motion, so it doesn't record hours of nothingness.
5. Plug Lights into Timers
This will give the illusion that you are in the house, if you are away on vacation. This is one of the better tips to prevent a break in. Put a timer to turn the lights on for a few hours at night. Or if you are at home, turn on the bathroom light to let the burglar think someone is awake.
6. Make your House Look Occupied
Draw blinds on the first floor so the burglar can't peek in. Slightly open them on the second floor, so they can see when the lights turn on when the timer goes off.
7. Know your Neighbors
When you have a good relationship with your neighbors, they will watch out for you. If they sense anything fishy going on, they can call you or the police. Just make sure that you notify them when you are leaving and when you are expected back.
8. Do Some Yard Work
Trim your hedges and bushes short enough so burglars can't hide in them when your motion sensors go off. Also, if you have a well-manicured lawn it also indicates that this home is being tended to. It's the house will the overgrown grass that could entice a thief.
9. Install an Alarm System
This is the easiest way to notify you if someone has broken in. It will sound off the alarm and notify the police. An alarm system will give you some peace of mind while you are not there.
10. Hide your Valuables
Stowing away your valuables is a smart way to keep them from getting stolen. There are safes that can be anchored into your floors. When you buy electronics, fold the boxes, so burglars don't know you have something new and valuable in your house. If you just bought a new 60" Plasma TV, make you sure you don't leave that big box outside in your front lawn for all to see. Either put it out the morning of trash day or rip it up into smaller pieces.
If you utilize these ten tips diligently, hopefully you will never have to deal with a traumatizing break-in at your residence.
This guest article was written by Raghad Rabah, representing 2MCCTV Security & Surveillance. 2MCCTV is a supplier of security cameras and provides home, small business, and/or enterprise level security solutions including planning, supply, integration, consultation, and installation nationwide.