This is a guest post by Ashyia Hill. If you'd like to guest post on this blog, click here.
You're proud of your child for wanting to attend college but scared of the financial burden.  It's very common for parents to feel this way, especially with the rising cost of tuition.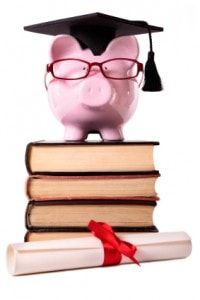 Fortunately, there are many methods for helping your high school student find money for college.  So if your child is repeatedly saying "I need money for college", this article will discuss ten tips on answering the age-old question of how to get money for college.
1. Fill out your portion of the FAFSA before Valentine's Day
If you stop reading this article right now, please let this be the one tip you follow! Filling out the parent portion of the Free Application for Federal Student Aid is the single most important thing you can do to help your college-bound student find money for school.
Filling out a FAFSA will make your college-bound student eligible for many different types of financial aid, including subsidized loans, unsubsidized loans, federal work-study, grant money for college, and many types of scholarships, too.  Grants and college scholarships are considered free money for college since they do not have to be paid back.
Please note that filling out the FAFSA is completely free and does not commit you to pay a penny of your college-bound student's expenses. It's just a form that provides your child's future school with the information they need to award aid. Your child can fill out the student portion on their own.
Let's look at it from the other angle, too. If you don't fill out the parent portion of the FAFSA, your child will be ineligible for most types of aid. Your child might be able to receive an unsubsidized Stafford loan, but only if you completely stop financially supporting your child and they can prove to the financial aid office that you refuse to file a FAFSA.
It's not rare for colleges to adopt a first-come, first-served policy for some types of financial assistance, like federal work-study, so it's best to fill out your portion of the FAFSA early. If your child wants to start college in the fall, you should make sure you do your part by completing your section early. Then, encourage your student to finish theirs and submit it before the 14th of February.
2. Talk to your child's guidance counselor about college scholarships
Many high schools receive scholarship filing guidelines and application forms directly from scholarship committees. Your child's guidance counselor may know about scholarships you haven't heard of yet.
So, make an appointment to drop by the school and ask them what's available.
3. Contact prospective colleges about institutional scholarships and grant money for college
Many colleges offer college scholarships and grants just for their students. It doesn't hurt to call, e-mail, or visit the colleges your child is interested in to ask what types of aid is available especially for their students.
If your college-bound student is accepted into several of their top choice schools, the availability of aid and scholarships at each one could help them narrow down the list.
4. Ask your employer if they offer college scholarships for children of employees
Yes, even in the age of cutbacks and layoffs, some companies still offer scholarships for children of employees.
Intel, for example, provides 1.4 million dollars worth of scholarship money to children of employees from 26 different locations around the world.
So, talk to your employer about possible scholarship opportunities for your college-bound student.
5. Look up what is available using a free scholarship search engine
Skip the pay-to-search websites and focus on the many free scholarship search engines instead. You just need to set up a profile for your college-bound student on each site and the search engine will find the scholarships that they are likely to qualify for.
You can start with the College Board's regularly updated Scholarship Search. It's available at College Board Scholarship Search and features more than 2,300 sources of funding.
6. Drive your college-bound student to drop off job applications and attend interviews
Working is still one of the best ways for young people to earn money for college. If your child doesn't have a car yet, you can help by driving them to pick up applications, drop off applications, attend interviews, and get to work on time, at least until they can save up for their own ride.
If your college-bound student finds a job that they like close to campus, they can keep working there during the school year, too.
Some parents worry that working while in college could hurt their child's grades, but a study by the U.S. Bureau of Labor Statistics has found that the opposite is true. After collecting information on hundreds of undergraduate students from 1996 through 2004, they found that the average grade point average for university freshmen who worked between one and 20 hours per week was 3.13. Students who didn't have jobs had GPAs averaging 3.04.
However, the study also found that freshmen who clocked in more than 20 hours per week had GPAs averaging 2.95, so full-time jobs are probably best left for summers and breaks.
Your college-bound student's first job may just earn them minimum wage, but with tuition costs today, every little bit helps!
7. Carefully evaluate student credit cards
Establishing credit is an important part of adult life.  Consider student credit cards to help your child build credit.  While earning cash back on everyday spending is a plus, make sure your college-bound student understands financial responsibility and the importance of paying on time, on budget.
8. Apply for a Federal Parent PLUS Loan
If you have good credit, you could qualify for a Federal Parent PLUS Loan to help cover your student's college expenses. These can be put toward paying for your kid's school supplies, housing, tuition, and more.
However, keep in mind that this will be your loan, not your kid's loan. It will be in your name and you will be responsible for paying it back.
According to student loan expert Heather Jarvis, Parent PLUS Loans can't be repaid under Income-Based Repayment or Income-Contingent Repayment. Like regular student loans, they can haunt you for a long time if you aren't careful.
9. Co-sign for a private student loan
If your student isn't getting enough federal loans and grants to make ends meet, you could help them get a different type of aid by cosigning for a private student loan.
In this situation, both you and your college-bound student will be responsible for the loan. If your child doesn't pay up, you will have to. Your credit score will probably take a hit if your child skips a payment or defaults on the loan.
Additionally, these loans are provided by banks and companies to earn a profit, so they tend to have higher interest rates than federal loans.
So, it's best to only think of cosigning for a private student loan as a back-up plan if none of the above tips are enough for your child to cover their college expenses. Make sure your child borrows only what they need and keeps applying for traditional forms of aid.
10. Be sure to file taxes each year, even if your income is low.
If your student, who is under 24 years of age, continues to live with you and rely on you for financial support while attending school full-time, you can keep claiming them as a dependent when you file taxes. This could make you eligible to receive free tax credits.
One of these tax credits is the Lifetime Learning Credit, which is designed to help with college expenses for taxpayers and their dependents. You could receive a tax credit worth 20% of the tuition and college-related costs you incurred for your child, up to $2,000!
So, even if your income is low, it's worth it to file your taxes every year.
We hope these ten tips for helping your college-bound student find money for college will be useful to you and your child. It is even better when that money is free money for college.  Obviously, some of these strategies involve more direct involvement than others. As always, think about your situation carefully before taking on any financial responsibilities.
If you feel discouraged, remember that funding your child's education is a way of investing for the future. As with any investment, there is some risk involved. Risk is the price we all pay for opportunity.
This guest article was written by Ashyia Hill who is a freelance writer.
Please subscribe to my blog using the RSS link or email updates and follow me on Twitter.
If you enjoyed this post please click on one of the icons below and share the love.