This is a guest post by Daniel Novak. If you'd like to guest post on this blog, click here.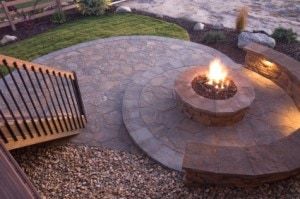 With winter upon us, an outdoor fire pit can provide a wonderfully festive place to gather with friends and family.
Bundled against the chill, hot toddy in hand, the smell of wood smoke wafting on the breeze as snow gently falls, the mesmerizing beauty of the flickering flames reminds us that even in the cold, penetrating darkness of winter, light is still with us.
Like a trusted friend, a crackling fire offers an ambiance of warmth, comfort, and sense of togetherness that few elements provide. And it doesn't even require a trip into the woods to achieve!
But with the pleasure and functionality of backyard fire pits, rings and bowls comes the potential for danger and fire pit users should share a responsibility to be safe. You should always be aware of safety tips when using anything with fire…
In a recent study by Underwriter Laboratories a number of respondents reported that they consider fire pits amongst the most hazardous outdoor items along with tiki torches and candles. However, the study also indicates that while outdoor fire is a concern, making safety a top priority is less so! Go figure!
So in light of this, the following are a few measures to assure that safety is paramount when using outdoor fire pits and rings and that gatherings around the fire pit are memorable for the right reasons.
1. Be Wary of Outdoor Fire Pit Placement
Locate the fire pit or ring away from flammable objects including houses, garages, overhanging tree branches or limbs, patio covers, and utility wires. In the case of movable pits make sure they are placed on even, stable ground in well ventilated areas that are clean and free of clutter before lighting.
2. Start Small with Dry Wood
Initially, begin with smaller fires using properly sized, well-seasoned (dried for at least one year) firewood. This allows for an understanding of wind direction and its effect on the flames as well as the fuel to burn hotter, more efficiently (thereby requiring less,) and produce less smoke.
3. Avoid Accelerants
Do not use accelerants like gas or lighter fluid to start a fire, as these materials are unpredictable, dangerous and unnecessary. While everyone enjoys a large, roaring fire avoid filling the pit with too much wood, as larger fires produce more airborne embers and sparks which can be carried for great distances (setting a neighbor's dry tree trimmings pile ablaze can really put a damper on the festivities!) Consider using a screen to avoid this further and do not use the pit on particularly windy days.
4. Use Hand Safety
Use insulated leather safety gloves to manage the fire in conjunction with proper fireplace tools like metal shovels, pokers and log grabbers. Never attempt to move the pit unless you know with certainty it is cold.
5. Think Ahead
Have a means of extinguishing the fire on hand at all times. This might include a garden hose or bucket of water (word of caution: be mindful of what the pit is made of, as cold water can crack ceramic and metal pits when they are hot), a bucket of playground sand, or a dry chemical, Class A-rated/multipurpose fire extinguisher such as those used in kitchens or vehicles.
6. Keep your Distance
While staying warm around the fire is obviously a primary goal, maintaining a safe distance is also recommended, as dry, popping wood can send sparks and embers aloft and potentially injure those standing too close. These red-hot floaters can also cause damage to clothing (having to repair an expensive Gore-Tex ski jacket is never fun).
7. Supervision is Paramount
NEVER leave an outdoor fire pit unsupervised, especially if children or pets are present.
8. Extinguish Safely
Thoroughly extinguish the fire once it is finished being used. Use an extinguisher, sand, or water to douse the flames. Regardless of the method, use enough to let hot coals and wood soak and continue until there is no steam. Monitor the process to assure that there is no chance for flare up hours later. Simply dumping a bucket of water on the flames and going to bed is not enough!
9. Check Local Laws
Check your local laws, ordinances, and regulations to determine if it is legal to even use a fire pit in your community. These laws have as much to do with curbing pollution as they do with preventing fires. Becoming familiar with these rules can prevent any legal ramifications from using a fire pit.
10. Know the Safety Rules
Last but perhaps not least, make sure that everyone using the fire pit knows these fire pit safety rules before striking the first match! Also, as children simply may not have the well-developed understanding of safety that most adults do it is vital that they are well-versed in the rules and always supervised around the fire.
By following these easy though effective tips, fire pit safety can be assured as can the fun and enjoyment that only a campfire can bring. When coupled with a little common sense, the worries often associated with fire can be eliminated and users of outdoor fire pits well protected.
Please heed these 10 safety tips and stay safe! Cheers!
This guest article was written by Daniel Novak who is a lover of gardening and planting, art and design, cooking and spending time in his backyard oasis. He is currently a freelance writer for the outdoor garden décor site AvantGardenDécor.com. In his free time, he enjoys attending garden shows and farmer's markets, wildlife viewing and watching baseball.
Please subscribe to my blog using the RSS link or email updates,follow me on Twitter, or on Pinterest.
If you enjoyed this post please click on one of the icons below and share the love.