This is a guest post by Miguel Salcido. If you'd like to guest post on this blog, click here.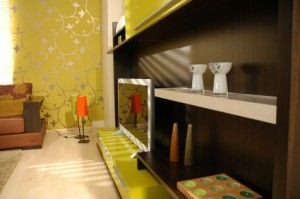 The economy is slowly recovering, but that doesn't mean you have the budget to spend hundreds, or even thousands, of dollars on your home. Who says you can't have killer style on a tight budget? Take a look at these 10 home decorating ideas on a budget to help you get the style you are looking for, and to keep your hard-earned dollars in your bank account.
1. Consider Using Reclaimed Wood
Need a new bookshelf? What about a bar in the dinning room? Instead of buying your dream bookshelf, save some money and make it yourself. Reclaimed wood is a great alternative and since it's recycled wood, it's environmentally friendly as well.
Instead of buying stain, opt for wood oil. It gives the reclaimed wood a great color, and brings out its natural beauty. If the wood is thin, such as pine, buy self-drilling screws. These screws won't split the wood, and are just as strong as regular screws. DIY home decorating ideas sometimes can be the best and the ones of which you are most proud.
2. Use Piping as a Construction Material
If you want an urban/industrial edge for your home, piping is a great cheap option. Take a quick trip to a hardware store and you have the frame for that new bookshelf or bar. If you want to go for an even funkier look, spray paint the pipes to make them the focal point of any room.
3. Introduce Quail Eggs as an Artistic Flair
Yes you read that right, quail eggs. Quail eggs have a unique shell that can add a fun pattern in any room. Find a clear vase, and fill it with the quail eggs. To give the vase more texture, add some regular eggs as well.
But won't they smell? Before you get going with the eggs, make sure you empty out the yolk. To do this pierce a small hole in the top of the egg and drain the yolk into a bowl. Once all the eggs are empty CAREFULLY boil the shells to make sure you get all of the yolk out. Cheap home decorating ideas like utilizing quail eggs in a glass vase can make a real difference in your home decor and style.
4. Implement Bold New Window Treatments
Getting a new pair of curtains can transform an entire room. Find something that has interesting texture, or bold in color. Changing just one thing in a room can completely transform a room.
5. Incorporate Old Books as a Design Option
Old books can add color and give your room a touch of funk. Go to a used bookstore and start searching. You want to look for books with covers that are a solid color. If the cover has a funky design or multiple colors it can distract the eye and look too over the top. Once you find the books, add them to shelves, an entire bookshelf, or your coffee table to give the room a new look.
6. Create your own Art
Instead of paying thousands of dollars on the latest in art design, create art. Take a picture of a great flower, fun outdoor space or something you just really enjoy. Blow the picture up and find a fun frame and you can have a gorgeous picture without the high price.
Craft stores can also be your best design secret. Buy different sized canvases and paint a spectacular design to add flair to a room and create your own wall art. If you aren't the next Picasso, don't worry. Find a unique piece of cloth to add texture to your room, and add a unique look to the canvases.
7. Consider Throw Pillows as an Accessory
A throw pillow can cost $5 or $500. Target has a great selection of throw pillows that won't break your bank. Things to look for when buying new pillows:
– Texture: Texture makes a pillow fun, funky and can spruce up your room easily.
– Bold Colors: If you have a tan couch, add color to your room with a bold color choice.
8. Treasure Hunt for Unique Lighting
Antique or vintage lighting can cost you hundreds of dollars easily. Instead, go to a thrift store and start searching. There are plenty of great treasures in thrift stores, but you do have to hunt for them. If you want a more modern look, Ikea has a great selection of unique lighting at a reasonable cost.
9. Get Rid of that Clutter
Sometimes less is more. When designing the perfect home, clean lines can give a fresh, modern look. What better way to overhaul your home without buying one thing? Donate and sell the items you can, and use the money towards new décor.
10. Adding or Updating Rugs will Add Warmth and Style
Adding an area rug in the living room or dining room can completely change the look and feel of the entire room. Just like a window treatment can change your room, so can a great rug. You don't have to buy a bunch of things to change the look and feel of a room. Statement pieces can do the same, and cost you a lot less.
To sum up, incorporating home decorating ideas doesn't have to leave you in the poor house. You don't have to buy a ton of new items to change the look of your home. Instead, find a few statement pieces, or clean up the clutter to alter a room's look. Find pieces with interesting texture or bold color to really pump up the design and, at the same time, keep your budget intact.

Miguel Salcido is an avid blogger, sports fanatic, father, and home owner who also enjoys social media and SEO. He manages PremiereVanities.com, where you can get free shipping on a unique selection of bathroom vanities & cabinets
Please subscribe to my blog using the RSS link or email updates and follow me on Twitter.
If you enjoyed this post please click on one of the icons below and share the love.