If you are anything like me, it's the out-of-the-blue, unplanned, expenses that really kill your budget.  Financial management is very important in our lives. You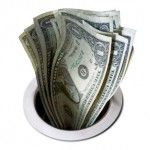 know, going in, your regularly-scheduled payments like your monthly mortgage bill, utility bills, and car payments.  But it's the blown head gasket, the dryer breaking down, or the furnace acting up that are unexpected expenses that can wreak havoc on your checkbook, your savings account, or your credit card balance.
So what can we do to avoid these budget-busting bills that always seem to crop up out of left field? In a word: "Maintain".    I am a fanatic when it comes to maintaining what I own.  Trying to stay ahead of those big bills is my motivation for meticulous maintenance.  This post will focus on maintaining inside your home and my next post will focus on outside maintenance activities that could save you big dollars in the long run.
Filters are your friends.

Think about your appliances at home and there is a decent chance that some of them have filters that need regular attention.  Filters are used to remove particles that can restrict airflow and reduce the efficiency of an appliance and to prevent dust and dirt from getting to the motor.  Neglecting the maintenance of a filter could reduce the life of that appliance which could result in an unexpected bill.  Here is a list of some appliances that have filters.
Air Cleaner, Vacuum Cleaner
Just the nature of these appliances screams filter.  Air filters remove impurities from the air such as smoke, pet hair, and dust.  HEPA® (High Efficiency Particulate Air) filters are found in many of the air cleaners and vacuum cleaners out there on the market today.  According to Wikipedia HEPA filters, by definition, remove at least 99.97% of airborne particles.  They are expensive to replace but you should follow the manufacturer's recommended replacement policy.  If you don't, you could be in for a bill that you're not expecting.  You must factor into your yearly budget the cost of these filters and make the swap when recommended.
Air Conditioner
With the drastic reduction in recent years of the price of air conditioners, almost everyone has one or many in their homes.  I have four of them myself, including one in each bedroom.  If you want these appliances to last, you have to clean the filter.  Read the manual when you purchase it and find out where it is located.  It typically just pulls out and to clean it you can run it under some hot water and clean it by hand.  It takes a good couple of minutes to do but it will help make your air conditioner last.  Obviously the more you run the air conditioner the more you should clean the filter.  I try to clean the filters when I put them in each year and check them every week or so.  It is something very easy to do but oftentimes these filters, since they are not visible, get overlooked.
Dryer
Your dryer has a filter called a lint trap.  Failure to regularly clean the lint trap could result in dryer
malfunctions, higher energy costs, and, more importantly, a home fire.  I have found that if we neglect to clean the lint trap, the dryer will run much hotter than usual which is a potential fire hazard.  This one is simple.  Just clean the lint trap before or after each time you use the dryer.  Once in a while I will actually use a vacuum cleaner and clean out where the lint trap is seated.  Also, assuming your dryer vents outside, you may have a plastic vent trap outside your house.  If our dryer is running hot I will always go outside and check out the vent trap and clean it out.  

Furnace Maintenance
Within the past year we had to change our furnace.  Anyone who has gone through a major overhaul in their heating system knows how expensive furnace-related costs can be.  Maintaining your furnace regularly is not expensive but it can save you from that big bill that you simply can't plan for.  Each year we have our furnace cleaned and serviced.  It may run you a couple hundred dollars or so each year but, if you neglect this type of service, you can be sure you'll be in for a much larger furnace bill.
Fireplace Maintenance
Oftentimes I've been called a pyro due to my love of fires.  But I'm talking about fires in my fireplace at
home.  Before we purchased our house the home inspection revealed a crack in the flu.  As a result, the existing owners had to pay for a brand new chimney before we purchased the home.  I can't remember the exact cost but it was over $10K and that was twenty years ago.  So, I make it a point to have our chimney cleaned either before or after each winter season.  If you use a wood stove to heat your home you may want to have your chimney checked and cleaned more often.  One tip I have learned from our chimney sweep is to use a Creosote Sweeping Log to keep
our chimney's flu clean.  He suggested cutting the log into three pieces placing a piece of each log into a roaring fire each month.  I used a chop saw to cut it equally into three pieces. This maintenance tip should certainly help prolong the life of your chimney and prevent any unnecessary large bills related to your chimney.
This post hopefully added a few practical suggestions and recommendations for maintaining some of your inside appliances and fixtures in your home.  Avoiding high-cost replacement items is the financial management motivation for these maintenance activities.  My next post will focus on outside maintenance.  Until then…
Please subscribe to my blog using the RSS link or email updates and follow me on Twitter.
If you enjoyed this post please click on one of the icons below and share the love.